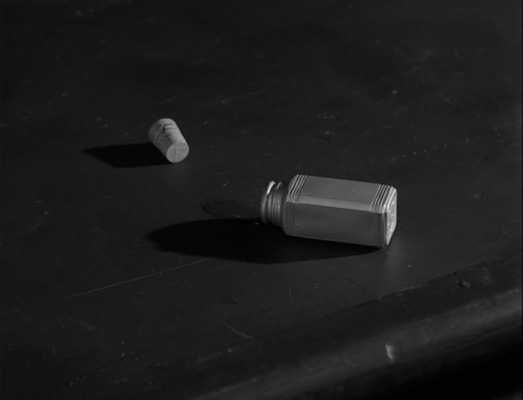 directed by Allen Reisner
written by Rod Serling
starring Dan Duryea
with Martin Landau, Jeanne Cooper, and Malcolm Atterbury
Friday, October 16, 1959, 10 PM EST on CBS.
---
---
That last one annoyed me so I've pushed straight on to this one, which is much better.
This is another sentimental fable, but this time the sentiment is something like idealism, rather than kitschy resignation, so it's much more palatable to me even if it's just as contrived and backward.
---
Fate is on hand, in person, but unlike Mr. Death, he's not really a full-fledged denizen of the story's world — he's sort of visiting from outside the story to prod it along, standing by silently, mostly unseen, occasionally nodding slightly. His relationship to the characters isn't particularly one of an authority figure or an external power with its own agenda — he's more like an embodiment of the unconscious.
From Denton's point of view, Henry J. Fate is a personification of the involuntary part of Denton's own self. He is the mysterious determiner of aspects of Denton that are beyond his power to will. Denton used to have perfect aim, now he finds that he doesn't and can't do anything about it, but Henry J. Fate can restore it to him, if he chooses. When Denton goes to test his aim, he's not choosing to have bad aim, it's just happening to him. The same way that the magical good aim just happens to him.
This is why in real life we sometimes have the intuition of a hovering other, some mysterious being who guides things for or against us, standing by silently, mostly unseen, occasionally nodding slightly. This other is really just the part of ourselves that doesn't fall within the feeling of "I." Calling it the "subconscious" is a little misleading because it suggests that it's submerged below the conscious. I think a better image is to think of the sense of self as a flashlight casting about in a dark room — the illuminated part is always going to be just a tiny fragment of what's there. And the machinery in the room is going to keep running whether or not it's in the light.
If you had to put a face to the imaginary fellow who seems to be slinking around that room just outside the flashlight's beam, this particular Henry J. Fate seems like he could be part of a pretty solid, healthy psychology. He's mildly paternal, mildly trickster, mildly eerie, and ultimately an agent for confidence and positive self-esteem. That's exactly how'd I'd like to think of my subconscious!
Henry J. Fate is modeled as a classic placebo salesman, and I was almost certain that this was going to turn out to be a "magic feather" parable, where apparently external magic is gradually revealed to have been internal magic. That never came to pass, but it's still the subtext. Henry J. Fate is only there to draw out what's latent in the characters, not to impose anything.
(The internet has called my attention to the fact that Malcolm Atterbury is best known for his role as "the rural man who exclaims 'That plane's dustin' crops where there ain't no crops!'" Well so he is, now that you mention it!)
---
Denton begins as a standard self-exiled hero, though in this case exiled only into degradation. (Nothing is more degrading than singing unaccompanied.) We eventually learn that he has allowed himself to fall this far only because his incredible skills kept making him a magnet for angry people, whom he was then compelled to kill (we'll return to this) until he was overcome with self-disgust.
The resident maternal hooker pleads with him on behalf of his own dignity but he's completely lost touch with it. The only thing that restores him to a sense that he is a being worthy of a haircut is the involuntary reemergence of his suppressed self, in the form of Fate's magic gun. Once he's reminded of the feeling of agency, suddenly his ego returns to life, and the first thing it does is strike out at the bully, which for the moment we are expected to applaud.
But as soon as we're back from commercial, his combative worldview has already thrust him back into a world of meaningless duels. You're either a drunk who doesn't count as a person, or you're a full-fledged person, in which case you have to constantly defend yourself against other people and their issues. "Didn't take any time at all. Just time enough for one shave."
Usually a hero returns from exile in order to get righteous revenge now that he's steeled himself with wisdom. But this is a smarter story than that; the world of people is uncomfortable for him because he's part of it, because they're all like him and he's like them. His compulsion to take all comers, and shoot to kill, is exactly what he hates in other people. The eventual twist is, quite literally, that they've all got their fear and their magic potions.
So kindly Fate arranges for him to shoot one of these alter egos, into a mirror as it were, with impossibly perfect aim. What does he do? Of course he gives himself a hostility-ectomy. The only thing he ever really wanted to kill was all this damn killing. When he realizes that the perfect symmetry of this therapy-by-gunplay has cleansed him of guns for ever, he's elated. And even young Troy McClure, who has been through less, seems pretty quickly to realize that this is something that he wanted, deep down.
It's really a lovely fantasy image: if we all had supernaturally perfect aim, we'd only ever shoot the guns out of each other's hands; we'd shoot our way straight to peace. All the chaos in the world comes from the shakes.
Realized this way, on TV, with a sprinkling of fairy dust, this comes off as a sweet, optimistic fantasy. But it's worth noting that it is exactly this aspiration to an infinitesimally perfect double-negative, the micro-targeted elimination of error, that fuels all real-world hostility, which never pans out that way. It is in fact the hostile fantasy, to think of error as something which, with enough precision, can be cleanly blown away. It doesn't actually lead anywhere good, to believe this. That's what I've learned from my time in the wilderness. So I'm not sure what we can learn from this particular show of "idealism."
---
The use of the word "Doomsday" in the title seems worth noting, since it doesn't particularly suit the scenario. I wonder if it's a hint for us to consider the whole thing as a metaphor for nuclear brinksmanship: a lot of magic guns purported to protect the world from everyone else's magic guns, in a reality where everybody's got the shakes real bad and Henry J. Fate isn't guiding anyone's hand. If you point your missile directly at someone else's missile, clearly you're not going to get world peace. So is the whole thing sardonic?
I don't think so. I think it's a sincere attempt at a pleasant dream about being cleansed of hostility, by and for people who still instinctively believe in the power of their hostility to do good. Since it's portrayed in terms of obviously-impossible magic, I don't think it does anyone any harm. The NRA isn't going to endorse this. But I don't think pacifists should either.
---
The acting in this one is strong all around, I thought, but in particular Martin Landau (age 31 — I guessed even younger) does a terrific bully. He has that fanatical defensive quality that real bullies have; all the cruelty is part of some delusional bid for validation he's got pumping in his head all the time. He makes the first half of this thing completely compelling.
The twist plays out in the 22nd minute, or at about the 87% mark.
---
No original score. Library music by Lucien Moraweck, some Herrmann music left over from another unproduced pilot, and a cue by Dimitri Tiomkin apparently composed for use on Rawhide. All the harmonica and zither solos are uncredited, but the tune is apparently a Russian folk song, so I wonder if that also comes by way of Tiomkin.
I find this stuff fascinating! I wish I could just listen to a radio station that only played TV library music of the 50s and 60s.