directed by Alberto Lattuada and Federico Fellini
story by Federico Fellini
screenplay by Federico Fellini, Alberto Lattuada, and Tullio Pinelli
2000: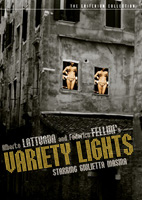 (OOP as of 11/07)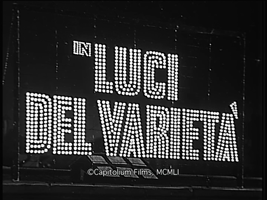 Criterion #81: Variety Lights. Accurate translation, of course, but awkward in English. Maybe they should have just kept it in Italian. They let La dolce vita stand; I think we could all handle Luci del varietà.
I mean, what does "variety lights" mean, exactly? My guess is: not just any one thing. The phrase only occurs in a song, which you're about to see performed. According to the subtitles:
Variety lights, shining like stars
Because I love you so
The magic of love is in the heart
Variety lights, may you have love and happiness
This is happiness…
So you tell me what it means. Are the performers touting themselves as being "lights" of the variety stage? I think so. Or maybe they're referring to actual stage lights and singing about the magic of the theater. Or just lights in the soul. Whatever — the sentiment is certainly clear enough.
Anyway, I've been referring to this movie as Luci del varietà and you should too.
---
Seems like everyone agrees I should be putting trailers in these entries, and I'm game. But this movie doesn't have an extant trailer as far as I can tell; not on the disc, not on Youtube. (Mind you, the entire movie is on Youtube! But no trailer.)
Still, I want to try to get this ball rolling, so in lieu of an official trailer, here's a 2-minute makeshift sampler assembled from bits of the opening scene by some Youtube user. Good enough to serve for present purposes.
---
Right from this first scene, I was touched by how knowingly and humanely this movie depicts theater as something profoundly pathetic, in the richest sense of the word. In the theater, the homely and mediocre is somehow magical, and what purports to be magical is irredeemably homely and mediocre.
I've done a lot of, shall we say, pathetic things in my time, and I very well recognized that stage, that orchestra pit, that audience — and the camera's eye was with me. I had the wonderful sense that the cinematic attention was doing exactly the "looking around" that I would be doing if I were there. When a film is working perfectly, it feels like the camera is responding to my every subconscious impulse, and at least for the first few minutes of Luci del varietà, it did. It's a beautiful sequence. The chopped-up version above doesn't do it full justice.
When Waiting for Guffman came out I was utterly delighted to be seeing the familiar world of amateur theater lovingly parodied on the big screen. This is obviously a different sort of movie about a different sort of show, but it covers some of the same territory of pathos and was similarly gratifying to me. I feel like it's one of the best "show business" movies I've seen: it is resolutely neither glamorous nor cynical. Show business might be a little happy, a little sad, but it isn't good or bad. It's just this way.
It makes sense that the world of the theater is the nexus where the two characteristic streams of Italian art cinema meet — neo-realism and carnival fantasy. In the theater the earthbound and the fantastic are embodied one in the other. And also, this world of showbiz is the real-life world of the filmmakers; it's the world in which their reality and their fantasies coexist. I'm sure everyone working on this movie had lived it to some degree.
It had a strangely melancholic effect on me.
I was surprised at how affected I was by the implicit poignancy of a plot which, at heart, is all about fact that the very beautiful woman has a different status and fate from everyone around her. Something about the quasi-realist style made her movie-star looks feel imbued with almost unfair power and significance, as they would be in real life. Most movies just fill the screen with the prettiest people they can find, and the audience gets to comfortably rest their eyes on a blemishlessness that subconsciously relieves them of their own beauty anxieties. But here it was just the opposite; it was somehow painful that she had one of those perfect faces. Everyone in the movie is portrayed as ordinary-looking except for this one rather dippy person who is undeniably magnetic to look at — intoxicating to our protagonist Checco — and as a result seems to float untouchably through their lives toward a higher destiny. Yes, that destiny may turn out to be made of tinsel, but there's still a sting in it for the rest of this world of clowns — to which we, the audience, belong.
By the way: I'm not talking about Giulietta Masina, whom the Criterion packaging claims as "starring." I'm talking about Carla Del Poggio — the rapturous audience member in the clip — who is the actual female lead. Giulietta Masina is in the smaller role of the protagonist's longtime girlfriend and dramatically-correct partner, from whom he strays as he becomes increasingly tantalized by Del Poggio's charmed status. I get that Masina is beloved from her later Fellini roles, but trying to sell the movie by claiming that she's the star is disingenuous. The star of the movie is in fact Peppino De Filippo. (Seen singing above.)
Similarly, the claim on the Criterion site that this is "Federico Fellini's stunning debut film (directed in collaboration with neorealist filmmaker Alberto Lattuada)" is unfair. I gather from the Italian Wikipedia page that in fact this is very much a Lattuada movie, with Fellini's primary contribution being as writer.
For what it's worth, these two complaints are linked: Masina was Fellini's wife, Del Poggio was Lattuada's.
Tell 'em, Google translate:
"I do not understand – said Lattuada – because later Fellini has ridden the idea that Variety Lights was one more thing that's mine, stealing somehow the authorship of the film; with all the masterpieces that made ​​does not need to Variety Lights to prop up his reputation." Even two of the performers, and Silvio Dante Maggio Bagolini, confirmed this view, albeit with different accents.

Fellini intervened in connection with conflicting statements: "My first film was Variety Lights; directed and the subject were mine," he said, while on another occasion he said that "the truth did all Lattuada, I only observe."

They intervened on the subject finally the details of the White Lattuada which explained that the scenes from Fellini were only three: the melancholy of the company away from the lawyer's house at dawn, meeting with black trumpet player in the night Roman and the awakening of the poor to the hotel. In defining the making of the film "seven tough weeks and unforgettable," the Lattuada remembered that "the presence of Fellini on the set was quite humble, never went into the editing room and left the set a few days before the end of the shoot."
("White Lattuada" is the director's sister Bianca, who served as production manager.)
Alberto Lattuada seems to be little known outside of Italy but that's no reason for Criterion to downplay him. They of all people should know better. (They did eventually include another Lattuada film in the collection.)
---
This is at heart a very traditional kind of story built on very traditional material, but with just the right touch of modern humanistic nuance, I thought. Or at least very nearly just the right touch — there is still perhaps a bit of slack here and there, and some corn. But it has that splendid opening scene, a similarly warmly-observed party sequence in the middle, and a wonderfully unredemptive glimpse of "big time" showbiz near the end. Those three bits by themselves make it admirable to me. And there's other good stuff in there. But most of all there's the sweet melancholy of theater, the most absurd of the arts.
Theater is too absurd ever to fully succeed, too absurd ever to fully fail. The movie knew that, and reminded me that I knew it too.
---
Music by Felice Lattuada, the director's father, in a competent operetta style, a bit old-fashioned. Conducted by Franco Ferrara. Here's the main title.
---