Pyotr Il'yich Tchaikovsky (1840-1893)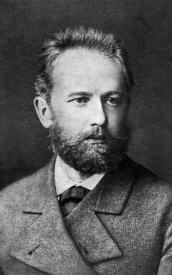 Opus 45: Capriccio italien
composed: 1880 (age 39-40, see above)
published: 1880
first performance: Moscow, December 18 [old 6], 1880 (Nikolai Rubinstein conducting the Russian Music Society [?])
dedicated to Karl Davidov (cellist, and director of the St. Petersburg Conservatory)
I'm pretty sure one of these is the title page of the original edition. I think they might both be – the first one as published in Germany, the second as published in Russia. There might also be covers from France and England. Not sure.
I'm including this because, as with book covers, I feel it's useful to see the design elements originally associated with a work. I think pretty visually, and seeing an illustration, or even just type design like this, really helps me get aesthetically oriented to the whole stylistic world that the work comes from. As I've probably said on this site in the past, I don't think it's right to present old art as though it's evergreen and can be repackaged any which way. Whether something appears "timeless" to us reflects more on our attitudes than on it, or on the time from which it comes. The only reliable way to have access to the past is to go out and meet it; it can't be expected to come meet us. At least to meet it halfway. Seeing a book cover sometimes makes it instantly clear where I'm going; so too with music, maybe. Though decorative covers aren't quite as ubiquitous in music. Still, even these relatively straightforward designs send certain signals.
I would have included the original covers for the prior selections but I couldn't find them online. These were scanned by the Eastman School of Music, and come from here, where you can download the full score, the score of the composer's own 4-hand piano arrangement (also 1880), and the score of a 2-piano arrangement by Eduard Leontyevich Langer (1835-1908), "a pianist colleague at the Moscow Conservatoire, whose ineptitude in making piano transcriptions was to cause Tchaikovsky so much exasperation" (quote from here).
Anyway, this was random number 359. Capriccio italien is a pretty dumb piece and its inclusion in the Essential Canon of Classical Music is mysterious. It's not the warhorse of programming that it seems once to have been, so I'm not sure it can even be justified in terms of ubiquity. Who out there really loves this piece these days, or even thinks about it? It's been recorded many many times, but I think only because it makes a good space-filler on an album of other Tchaikovsky works, and seems easy to play.
But maybe not easy to play well. Yet again I'm struck by how unsatisfying the recordings were. The piece is all about catchy tunes and corny fun, and it seemed fair to wait for a performance that really brought the catchiness and fun to life. But nearly every conductor seemed content to let it die on the vine, taking the score at its pedestrian word and not adding anything. The slow first theme, which in my imagination should be lusty and operatic almost to the point of comedy, falls totally flat in nearly every performance I heard, with the triplets coming out lazy and even instead of petulant and snappy. The whole score is clearly made up of tunes that PT thought were hummable; the least an orchestra could do is play them like they wanted to hum them.
Actually, all I really wanted from a performance of this piece is for it to sound like an old cartoon score, where dinky popular and traditional tunes have been thrown together and orchestrated and are played with gusto and a total lack of artistic ambition. The second theme here seemed like it come from a Carl Stalling depiction of Italy, and for all I know it may have been used that way. But if the Warner Brothers orchestra played it, they would have given it some kick!
The piece is actually just like those Liszt Hungarian Rhapsodies, only Italian, and with perhaps a slightly more agile sense of orchestration, but considerably less overall flair. The few connecting and developmental passages are rather weak, as I think Pyotr himself acknowledged, and in the end we don't really come away with a sense of having gotten anywhere. The tempo and character transitions need a lot of goosing from the conductor; without adding a lot of accelerandos and rallentandos they don't make enough sense. Unfortunately none of the conductors did that.
Apparently the actual inspiration was not Liszt but Glinka. But I don't know those pieces so I can't comment on that.
It's a tourist piece, based on stuff Tchaikovsky took in while he was staying in Rome. The intro is a bugle call he could hear from the Italian cavalry barracks near his hotel room. I like the idea of taking some noise you hear every day on your vacation and making it the entrance gate to a work of art. With that in mind, the introduction is actually quite effective – the bugle call is played bare in the trumpets, exactly as he heard it, but then is magically joined by the rest of the whole orchestra, converted into something glorious as it passes through the gate of perception and into the interior world of the artist. Or something. For that to come across, though, the opening few bars have to be played like an actual bugle call – without too much expression and not too broadly. No conductors made that choice either.
There are about four themes – 1. the operatic one, 2. the dippy ice cream truck / Popeye one, 3. the suave, jaunty one (my favorite), and then, after the brief return of the operatic one, 4. the tarantella, which has at least one good part. Then a clumsy, would-be-triumphant return of the ice cream truck / Popeye theme leads into a middling coda of the "whipped into a frenzy" type, which actually undercuts its own frenzy in a couple places.
So: this is a deeply unambitious, "lowbrow" piece, and isn't even a particularly fine specimen of that type. That said, it still gives off a sense of genuine good cheer, these tunes are pretty catchy, and I am able to imagine a really rollicking performance of this piece that delights me, even if I've never actually heard it. If someone started humming this I'd join in. But "essential canon" are strong words and this is quite obviously a lightweight. That's okay by me, though – it still feels like I've tossed at least a spadeful of cultural literacy on to the pile.
The official four-hand version, by the way, is mostly very easy and potentially fun to play, but then has some really tricky scales in the middle. I would say fudge them – this was never going to sound good on a piano anyway. Though it looks like those crazy Labeques have recorded this version all the same.
Per Dubal:
London Symphony Orchestra, Rozhdestvensky: IMP Classics IMPPCD 875
St. Louis Symphony Orchestra, Slatkin: CA 09026-60433-2
I couldn't readily find either of those. Note that the obscure link above is the only indication I can find anywhere on the web that the IMP Classics release ever existed. (Though a different release of the same recording can now be gotten here fairly easily.)
My favorite of the eleven recordings that I could find, see below, was the Czech Philharmonic / Karel Ančerl. It's not particularly clean but at least events progress in a way that makes sense to me. Somewhere out there, I believe, there is an even better recording.











Chicago Symphony Orchestra / Daniel Barenboim. Deutsche Grammophon 445 523-2. 1981.
Bavarian Radio Symphony Orchestra / Lorin Maazel. RCA 09026-68471-2. 1995.
Philharmonia Orchestra of London / Placido Domingo. EMI 5 55018 2. 1993.
New York Philharmonic / Leonard Bernstein. Sony SMK 61556. 1960.
Minneapolis Symphony Orchestra / Antal Dorati. Mercury 434 360-2. 1955.
Orchestr Ceská Filharmonie / Karel Ančerl. Supraphon SU 3680-2. 1965.
"London New Philharmonia Orchestra" / "Laurence Gordon Siegel". Intersound CDQ 2027. Released 1988.
Berliner Philharmoniker / Herbert Von Karajan. Deutsche Grammophon 463 614-2. 1966.
Berliner Philharmoniker / Seiji Ozawa. Deutsche Grammophon 427 354-2. Released 1989.
Orchestre symphonique du Montréal / Charles Dutoit. Decca 466 419-2. 1986.
Cincinnati Pops Orchestra / Erich Kunzel. Telarc CD-80541. 1988.