A.R. Ammons (1926-2001)
Collected Poems: 1951-1971 (1972)
396 pp.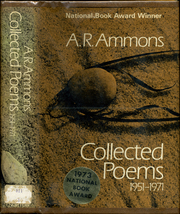 Roll 8. 2448: A.R. Ammons: Selected Longer Poems, but it's preceded by Collected Poems so we go with that first. Dug out of the Brooklyn Public Library closed stacks again. It turns out it's still in print, though. In a nice-looking edition, too.
About Ungaretti I said that my acclimation to poetry may well have to be a harsh dive into cold water, but that all the same, I doubted anyone would have recommended that I start with Giuseppe Ungaretti. I can, however, imagine that someone might have recommended I start with A. R. Ammons. I'm glad I read this, I enjoyed reading it, and I think I've made some definite poetry progress.
This was poetry not as "great art," but as someone's habit. It was like thought, the way that a diary is like thought.
That poetic language can actually resemble thought more closely than prose – because the human mind is loose even though reason itself is rigid – is something that has taken me some getting to to get to. Maybe poetry is out of fashion because in these scientific days we need better indoctrination in the difference between mind and idea. Poetry seems to me to be more about the former, in an era that heavily emphasizes the latter. Perhaps the language of psychology passing into common parlance – or something like that – has de-aestheticized* the inner experience. We tend to see the haze within quasi-scientifically, as something to be sorted and known accurately from without, if possible. Or ignored.
Earlier (like, pre-19th century) art is not particularly interested in the individual, and on the other hand, the "Romantic" idea of portraying nightmares and passions seems awfully self-pitying and counterproductive compared to Dr. Phil and Oprah and so forth, whose message of common-sense reasoned self-possession I wholly endorse, irritating and shallow though it may be.
This is exactly what I did not know about art until quite recently, then: the dividing line – that there is, or can be, a value in knowing the inner experience as is, consolation in recognizing it in art, and also value in this kind of knowledge without framework, without ground rules. That knowing what it is like to be alive is knowing something real, even if we can't say what exactly we're talking about. That it is possible to traffic in this kind of knowledge usefully and discriminately, even if sub-rationally. That poetry could be a real tour of real places, despite eschewing reason, because the interior life is both real and unreasoned. And that language, being in its strictest form a record of reason, must be handled specially and abnormally to accomplish this task for which it isn't quite cut out. You have to package the not-quite-reason in sloppy poetic chunks of words or else it won't survive being expressed.
A.R. Ammons himself, in fact, has a typical and lovely metaphor for this last notion in his Essay on Poetics in this very volume:
…
stop on any word and language gives way:

the blades of reason, unlightened by motion, sink in,
melting through, and reality's cold murky waters
accept the failure: for language heightens by dismissing reality,

the sheet of ice a salience controlling, like a symbol,
level of abstraction, that has a hold on reality and suppresses
it, though formed from it and supported by it:

motion and artificiality (the impositional remove from reality)
sustain language: nevertheless, language must
not violate the bit, event, percept,

fact–the concrete–otherwise the separation that means
the death of language shows…
Which brings me to the book itself and how it relates. Ammons helped solidify my confidence in everything above because he is a modern-day American man, living, like me and my friends, within an essentially scientific philosophical framework, who is nonetheless writing from and about thought and experience, not rationality. In reading his musings about wind and sand and seeds and flowers, in terms of patterns and anomalies and larger patterns, in terms of vague general principles of perception and being like the one vs. the many, nexuses vs. peripheries… I recognized the quality and flavor of these thoughts, even in their specifics, and also while recognizing it, knew clearly (because Ammons knew it clearly) that this was not quite reason. That it was a sort of thing that lived in my head that was actually served better by loose, poetic language than it ever could be by straight talk. That was deeply satisfying!
Ammons' poetry was also satisfying in itself. It was, at its best, a deep and analytic exploration of the kind of thought and experience that I found sympathetic in that long silent film of eddying water and swirling smoke I wrote about last year. His subject matter is mostly nature, observed with extreme care and precision, but the real subject is the same as his technique: meditation on the world. Which is where my mind goes when I meditate on nature – back in on itself, or down to the underlying forms – so I felt very much at home with these. When I understood them.
Of course they're not all "good" in the sense of deserving isolated attention – there are hundreds of poems in here, most of them seemingly unrevised trains-of-thought – and that was actually reassuring and freed me to enjoy them more naturally. Reading the whole collection also meant gradually growing accustomed to the particulars of his semi-private language. The intended resonances of certain words within his language, such as "saliences" and "suasions," only slowly became clear. I was okay with that; it was satisfying to know that I'd done it and gotten more fluent at it as I went, just as it's satisfying to observe oneself getting better at any repeated task.
The poems are assembled in chronological order, but without identifying the original collections that are compiled here. The first 50 pages or so were less pleasurable early work in a different, more mannered style. That, ultimately, wasn't a problem either – watching that style evolve and fall away over the years, as Ammons grew more and more comfortable just writing stuff down, so to speak, was in itself satisfying to observe.
One last thing I took away from this. There is art designed expressly to communicate with outsiders, and then there is art produced simply as a function of the artist, as a process. Outsiders are welcome but no special accommodations have been made for them. I have generally frowned at the latter; cutting the audience out of the equation seems selfish or at least self-centered. But having read this work, which was far closer to "mere process" than I am usually comfortable with, showed me that I shouldn't be so quick to dismiss art just because it seems oblivious to me and I'm implicitly expected to run out to meet it. Passing through these 400-ish pages was more like very casually strolling out to meet the artist by following the sound of his typewriter, somewhere near a suburban window in the late 60s, and finding, when I got there, that I approved of what he was doing after all. So there's a moral there for me to take away.
Everyone always likes sample poems, right? I typed up this one even though it's hardly one of his finest and isn't totally characteristic either. But when I first turned to it in the book was one of the moments when I took the time to articulate some of the stuff above to myself. It's a poem about lines, or rather about perceptions of lines. That I could nod at it and think, "yeah, he nailed it, lines are like that" struck me. There was absolutely no way to paraphrase in rational terms what I had nodded at – I was nodding at the recognition of the shared sub-rational mind. Ah-ha!
Lines

Lines flying in, out: logarithmic
        curves coiling
toward an infinitely inward center: lines
    weaving in, threads lost in clustral scrawl,
        weaving out into loose ends,
wandering beyond the border of gray background,
    going out of vision,
        not returning;
or, returning, breaking across the boundary
    as new lines, discontinuous,
        come into sight:
fiddleheads of ferns, croziers of violins,
    convoluted spherical masses, breaking through
        ditchbanks where briar
stem-dull will
    leave and bloom:
        haunch line, sickle-like, turning down, bulging, nuzzling
under, closing into
    the hidden, sweet, dark meeting of lips:
        the spiralling out
or in
    of galaxies:
        the free-running wavy line, swirling
configuration, halting into a knot
    of curve and density: the broken,
        irreparable filament: tree-winding vines, branching,
falling off or back, free,
    the adventitious preparation for possibility, from
        branch to branch, ash to gum:
the breaker
    hurling into reach for shape, crashing
        out of order, the inner hollow sizzling flat:
the longnecked, uteral gourd, bass line
    continuous in curve,
        melodic line filling and thinning:
concentrations,
    whirling masses,
        thin leaders, disordered ends and risks:
explosions of clusters, expansions from the
    full radial sphere, return's longest chance:
        lines exploring, intersecting, paralleling, twisting,
noding: deranging, clustering.
And now down here I want to recount one more thing. One day while I was reading this one on the subway (occasionally wondering what I would think of any other person that I saw reading such a thing), and half-musing about "what is poetry really" and "what kind of relationship can I or anyone else today really have with poetry" a guy with a sales pitch walked into the car and right in front of me started talking to us all by saying loudly, "Who here likes reading poetry?" Which seemed to me like a very strange coincidence, and for a second I considered holding out my book and saying, "look, I do!" But I didn't. Nonetheless it seemed like what he was about to say was meant especially to encourage me that poetry was still alive and well. He continued, in a practiced stream of oration:
If you like reading poetry, you should check out my book, "Corner Stores in the Middle of the Block." That's my poetry book, that's me on the front – and that [shifting his wares] is my novel, that's me on the back. [on the front was a sexy lady] It's called "Pretty Ugly." You can get them from me or they're also on the line at "Poetry Is A Live" dot com. That's my book, there's 38 poems in there. I have a poem that's not in the book, and it goes like this: "If America became a cashless country / what would bums beg for?" I have another poem that I wrote for my sister, and it goes like this: "The difference between a pretty girl and a ugly girl is / ugly girl's a better cook." I have another poem, and it goes like this…"
and so on. If you go to "poetry is a live dot com" you can, oddly enough, see video of the guy bouncing around on the subway platform – i.e. more or less what I saw.
The only point of this anecdote is that at the exact moment that I was wondering whether poetry was, for want of a better word, alive, someone amazingly showed up to give me seriously mixed messages on that very issue.
* Maybe "de-personalized" or "de-humanized" would be a better way to say it – except those sound so bitter!