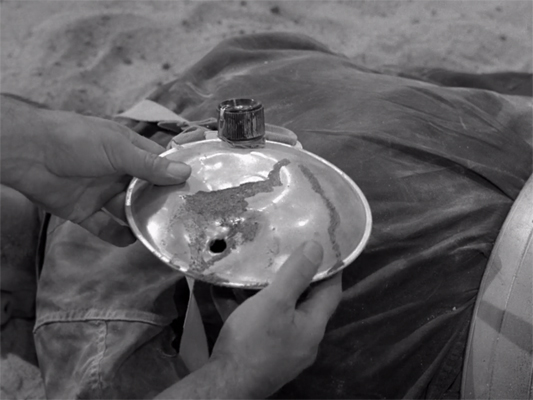 directed by Stuart Rosenberg
teleplay by Rod Serling
based on the story by Madelon Champion
starring Dewey Martin and Edward Binns
with Ted Otis, Harry Bartell, and Leslie Barrett
Friday, January 15, 1960, 10 PM EST on CBS.
---
---
Hey, this one breaks the pattern! It has a progressive twist, rather than a retrograde one.
"It was Earth all along" is the exact opposite of "it was all a dream." Instead of giving us a convenient excuse for forgetting where we've been, it reminds us that there's no excuse, because we never went anywhere.
It's a brilliant twist, and it would go on to be the most famous twist of all time, when Serling reused it in his screenplay for Planet of the Apes.
I'm defining a "progressive" twist as one that confirms the subtext of the preceding fantasy instead of brushing it under the rug. It draws the audience's emotions forward toward the light, in the direction of catharsis. "Turns out you're home," it says, "where feelings live. So admit what these feelings have been."
The feelings at the end are not new feelings about the twist; they're pre-existing feelings set free by the twist. Charlton Heston falls to his knees for the same reason that Corey does: because, having lost everything that ever mattered to him, he's been in agony all along. But he needs to realize that he's home for those feelings to finally be unleashed as feelings. As long as he believes he's far away, in a land of action and danger, the adventure of manly resilience will continue. The fact that this has all happened at home is not why it hurts in the first place, but it is why it's allowed to be recognized as hurting.
This goes for the audience too. Fantasy is a playground set off at a safe distance, in which our subconscious has special permission to run around and burn off steam, freed from the burden of believing that the feelings we're having are really ours; it's all "just" fantasy. A story that ends with "it was all a dream" tells us to double down on that kind of compartmentalization; it gives us a further exemption within the exemption. Whereas "it was Earth all along" pulls us in the opposite direction; it collapses the safe distance. By reminding us that the characters' feelings were really theirs, it impels us toward recognizing that ours are too. After all, the only person actually generating the emotions you felt in this fantasy story has been you, the viewer — on Earth all along.
---
While there are infinite variations to be played on "it was all a dream" — I count at least four in this series so far — there are far fewer ways to deliver the effect of "it was Earth all along." The difficulty is to contrive a situation where recognition of the familiar can be delayed until the end without being disguised. This is a crucial caveat, because if what we experience turns out to have been a mirage, then the emotions associated with it become mirages as well. To get the full Heston, we need to be able to carry our entire burden intact through the door of revelation.
You may now ask: So, does Soylent Green qualify as a progressive twist? Do, say, The Sixth Sense and The Others? What about "Third From the Sun," for that matter?
The answer is no, not in the very particular psychological sense I'm talking about. Yes, those are all "it was [X] all along" twists, and yes, they're not preceded by overt mirages. But the thing we're looking for, the thing that sets this episode apart, is an ending that suddenly moves everything closer to home — closer to the safety of the familiar, closer to the seat of the emotions. Those other twists all place the action further from normalcy.
In "Third From the Sun," things weren't as straightforward as we had thought. In "I Shot an Arrow Into the Air," they are more straightforward than we thought. That is: it's just people fighting and killing each other, exactly what it looks like, and not a "space survival adventure" version of the same, a more fantastical thing, to which we're inclined to apply a more fantastical sense of morality.
---
In this way, the meaning of the episode is identical for the audience and for Corey. Corey thinks he's been operating under a moral exemption appropriate to sci-fi and hopeless cases, but then is forced to acknowledge that he's just been operating as himself, a human being. Like Lord of the Flies.
That you the viewer might be capable of murder, simply because you're a human being, is a pretty bitter pill for prime time. And as I've been saying, this episode doesn't take the standard tack of using its ending to hedge its bets and smooth things over. But the trademark Twilight Zone ambivalence still makes itself known in other ways. It has to; it's like an air bubble that's pushed down in one place only to pop up in another. The ambivalence is simply part of the package deal, as negotiated among Rod, the network, and the audience — not to mention Rod's superego, the subculture of the science fiction magazines, Dwight D. Eisenhower, etc. etc.
The strongest-pill version of this episode's story would portray Corey as a sympathetic everyman, and coax the audience into embracing his cold survivalist logic. Movies rope the audience into signing on for "tough-hearted mercy-killing" all the time, so this is clearly doable. Twisting the exemption out from under that would send a real clear message. Probably a painful one, for many viewers.
…
[I must briefly digress here. As it happens, there is a movie out there that has a full-fledged progressive twist ending and throws it directly in the face of "tough-hearted mercy-killing." It seems duly to be remembered as having been exceptionally emotionally shocking — well, by those who saw it. You probably didn't, and I certainly didn't, and probably never will, because it doesn't sound like it's a very good movie.
That movie is Stephen King's The Mist (2007), and I know about this ending — which was written not by King but by director Frank Darabont — solely from reading about it (and then watching the clip) on the internet. (You can just read the plot summary on the Wikipedia page.) Darabont has described the ending as "an angry cry from the heart from a humanist," which, as you can imagine, I find fascinating, as an artistic and a social phenomenon. But for present purposes that's enough digression.]
…
Instead of luring the audience over to Corey's logic, the show goes in the opposite direction: Corey is depicted from the outset as a dangerous, untrustworthy lout. Unlike prior sleazeball antiheroes — like the amoral jerks in What You Need and The Four of Us Are Dying — Corey doesn't even get the formal endorsement of being followed around by the camera like a proper protagonist. That distinction goes to Donlin, a classic "good stern dad" who ultimately gets shot down by the feckless youth that he never stopped nobly trying to keep in line. After only a few minutes of the episode we're firmly oriented within the masculine-tragic worldview of the John Wayne contingent; we know exactly who we're better than, what we're tougher than.
And then as if that's not all safety enough, the episode goes a step further:
DONLIN: Pierson, you were with Corey during the crash. What happened to him?
PIERSON: Nothing that I know of, sir. I can't understand it either.
These lines, never followed up, imply that even for Corey, Corey's current loutishness is an aberration, possibly attributable to some kind of personality injury intangibly linked to space accidents. Deliberately vague stuff, designed to be a moral loophole through which an audience member can squeeze a camel if need be. Now when the end comes you have not just one excuse but two:
1) Corey's case doesn't apply to me because Corey was a congenital bad guy, the type who doesn't even love and fear his good stern dad
2) Corey's case doesn't apply to me because Corey wasn't himself; he went crazy, got hit on the head by outer space or something
And then there's even a third buffer put in place to protect the delicate audience from the direct shock of this ending: Rod's narration makes an extremely rare mid-show appearance, contemptuously egging Corey on as he treks toward self-recognition. By the time Corey sees the highway, we've already written him off as a philosophical dead man. This is a fairly drastic intervention against the impact of the ending — not to mention the established format for the show — for no other reason than that it is made necessary by the principle of the conservation of ambivalence. It's all a conservative counterweight to the final twist.
When it comes time for the catharsis of recognition, the audience is primed to have the exciting experience of getting to take it at full force. There's no risk of anyone getting really knocked down, because the show has taken such care to insulate us, whether or not we knew that's what was happening. Safety first.
I will grant him this, though: Corey certainly looks the most like Rod Serling of any of the characters. And I'd wager he's 36. (Dewey Martin was.) Your mileage may vary — from Rod's — as to whether that complicates your sympathies.
---
Okay wait, you say, I have one more question: what about Citizen Kane? Do you count that a progressive twist?
Well, sure, that's a progressive ending — it tells us that things were more emotionally on-the-nose, less obscure than we thought — but does it really count as a twist? It's just the answer to the question posed at the beginning, like in any mystery story.
Well then, you say, how about Fight Club? And what about Vertigo?
Right, good, those are both interesting cases, but guys, I'm sorry — for the sake of time I'm going to have to move on. If you really need to ask more about specific twists I'll be holding office hours in the comments.
---
I'm not going to read too much into it, but I do think it's worth making a note in our Rod Serling psych file that this episode's twist, which, as I've been saying, stands out so distinctly from most of Serling's work, was not the product of his own imagination.
Apparently he was at a Hollywood dinner party and a non-writer — Madelon Champion, wife of writer/producer John C. Champion — came up with this twist in conversation, and Serling immediately recognized it as a winner. He reportedly paid her $500 for the idea when he decided to use it, and gave her the generous credit seen above, "based on the story by Madelon Champion."
Well, in the long run maybe not actually that generous, considering Planet of the Apes. I guess really it was the least he could do.
---
Loose bullets that I couldn't fit into the flow:
• The expression "who's he when he's at home?" embodies the premises of the discussion above. It's essentially a psychological idiom.
• The opening rocket launch sequence is fabulously cutting-edge: the "first manned aircraft into space" being fantasized about less than a year and a half before the real thing. I tried to identify the launch footage — which seems to include glimpses of a real control room and possibly real audio chatter, too — but couldn't. Versimilitude goes a long way in this game; to us now, the real 1960 seen in the stock footage and the imaginary one of The Twilight Zone seem pretty closely related, so I can only imagine the impact it would have had at the time. Putting cardboard Zuckerbergs in your Bourne movie doesn't come close to how excellently topical this is. I wonder how much of this kind of NASA footage the average audience member had even had the opportunity to see, by January 1960. Maybe not that much.
• Once we switch to the make-believe control room set, the first thing we see is a huge vertical glass map, as seen in Star Wars etc. Is that a real thing in real life? Does it have a name? The guy in the episode has to write on it backward, which seems like a problem with the whole system.
• After the full-bodied intro — with documentary footage no less — to be dropped into such an intensely minimal situation gives a sense of dreamy transport. I suspect the director had the opposite intention in mind: the intro was to ground what followed in reality. But the effect is actually that the intro throws into relief just how blank the stage is on which this little dream is playing out.
• There's more than a whiff of Cain and Abel in the middle of the episode, something biblical and allegorical, both in the story and in the way the desert landscape is used. There's also a conspicuous cribbing of the famous Seventh Seal shot of figures on a skyline ridge. I'm not sure whether this stuff counts for or against taking the material more seriously; maybe neither. In any case it gave the episode a quiet sense of style and I liked it. (Stuart Rosenberg went on to be a real high-profile film director, responsible for Cool Hand Luke and The Amityville Horror, among others.)
• Reshoots are apparent: suddenly they're acting on a tiny set with an obvious painted drop about three feet away. It's reported of this episode that shooting in the desert was frustrating and there were tensions. Well, naturally.
• This is the second episode (out of only fifteen so far; that's 13% of the series) about a guy named Corey/Corry stranded on an asteroid that looks exactly like Death Valley. Maybe mix it up a little more than that, Rod.
• This episode's title is yet another stab at imparting weight and legitimacy with a literary reference — this time a bit more successful than previously. This whole Bartlett's compulsion is a habit that Rod picked up from the world of sci-fi and fantasy writing at large, where it served a defensive, compensatory function. The vital signifier is not so much the content of the reference as it is the stilted syntax of the "high" idiom. In this case the phrase with the cachet is "I knew not where," which is too many words into the poem to fit in the title, so to get full credit, a character needs to speak two whole lines of the poem in the course of the episode. Musingly, at a window.
Of course even this fairly unassuming quote has been abused for convenience, to correct the tense and cut out the spoiler — the character says "it landed I know not where." Then, to pre-empt any accusation of having mangled the reference, he asserts that in the fictional context this is in fact to be understood not as a quoting of Wordsworth per se but as a "nursery rhyme for the age of space." Not the greatest way to showcase your affinity for fine literature… but weep not, for clearly made your point is, all the same. And lo they wept not.
• At the time of the shoot, Edward Binns, who played Donlin, had just recently been seen by audiences as Captain Junket in North By Northwest! You know, Captain Junket. You know! The one who said the famous line, "Mrs. Townsend, I'm Captain Junket of the Nassau County Detectives." Yeah! Download the clip to make it your ringtone.
• Here is $1353.89 in unclaimed life insurance benefits belonging to John and Madelon Champion. Good luck.
• It's the part I was born to play, baby! I thought that would be a pretty funny line & link to slip organically into the discussion. It seemed doable; I figured I could have Rod Serling's subconscious saying it. But that didn't work out and now it's just sitting here. Maybe you can see where it should have gone.
---
More stock music but the editing is much better in this one. Some snippets of Herrmann but most of this is library music by Lucien Moraweck and René Garriguenc — both French-born, but unlike the Parisians mentioned last time (Marius Constant and Guy Luypaerts), Moraweck and Garriguenc were both LA residents and lifelong CBS staff composers, with a scoring style and approach not so different from Herrmann's. I'm not sure whether there's a traceable chain of influence there or whether there were just basic stylistic ideas common throughout the industry. The world of radio and television music is not widely discussed or studied and mostly opaque to simple Google dabbling. The Twilight Zone is actually one of the very few cases where interest in the music has been widespread enough to churn some of this information to the surface of the web.
And yet who among us hasn't been deeply influenced by subliminally hearing hours upon hours television music? Listen up!