2000: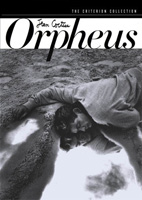 2011: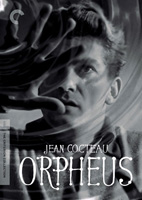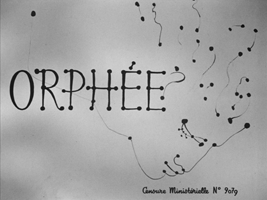 written and directed by Jean Cocteau
Criterion #68. "Orpheus," of course.
= disc 2 of 3 in Criterion #66, "The Orphic Trilogy." Or at least it used to be.
Criterion generally doesn't let their DVDs go out of print if they can help it. But in 2010, about 25 titles went "OOP" at the same time, for backstage business reasons. The films in question had been licensed from StudioCanal, who opted not to renew their agreements with Criterion because they had just made a new deal with Lionsgate: Lionsgate would get exclusive US distribution of titles from the StudioCanal library, in exchange for which StudioCanal would get the Germany/Austria/Switzerland distribution rights to major new Lionsgate films.
I always find this sort of stuff rather unpleasant to contemplate, since I prefer not to think of movies as just so many marbles being traded and collected by a bunch of chortling executives. But they are that. (Everything is, in the end, because everything can be, and executives will be executives.)
The casualties included #67 Le sang d'un poète and #69 Le Testament de Orphée, thus killing the "Orphic Trilogy" boxset.
However, the middle film of the set, #68 Orphée, is not a StudioCanal property, so a year later Criterion came back out with a new standalone edition of just this one film. Plus, naturally, a lot of bonus stuff. That's the edition I watched.
The upshot is: this title is both part of the ongoing boxset and not part of the boxset. Depending on what kind of system you're using for your chart of my progress, this may call for a dagger.
---
For my purposes here, there is a problem with the bundling of these three closely related films right in a row: namely, I've already said the stuff I have to say. Cocteau described this movie as an "orchestration" of the theme "played with one finger" in Blood of a Poet and that sounds right to me. So it means my big picture response is nearly the same.
To recap: Jean Cocteau is a sincere, sensitive, neurotic egomaniac. He chases his own tail in circles, but thinks what he's doing is descending into the underworld. He believes that he is on the dark and perilous quest of a poet, since poets must lead the world in matters of heart and sensibility. Whereas actually he's just alone because it's his own tail and poses no problems for anyone else.
At times it seems like he and his art are deliberately crying out to be psychoanalyzed, but I think that's actually not the case. I think he didn't believe in the possibility of being understood, did not believe in psychology, only in its manifestations. There is something very lonely about the work.
One of the many bonus features is a French TV segment from the 50s called "40 Minutes with Jean Cocteau," in which he is seen wringing his hands and staring fearfully while he says his same old stuff about the true poet being some elusive interior self, and musing about all the things people project onto him, in his fame, that have nothing to do with him. At one point, completely unprompted, he takes up some papers from his desk, announcing that they are sketches from the preparations for Blood of a Poet as he nervously thumbs through them, and then just as suddenly puts them back down, saying, "I don't really want to show them to you." He then shyly/proudly points out his diary, which lies open on the desk. Then, again seemingly unprompted, he takes out a large piece of paper and signs his name on it, finishing with his little star. All of this behavior comes across as being compulsive, anxious, like he's desperately trying to figure out what to do in front of the exciting, scary cameras, and these are the things that spontaneously occur to his racing mind.
In fact "compulsive" is a good word for the spirit of most of his output. I think he frequently confused compulsion with inspiration. Since his compulsions were so intrinsically aesthetic, he got away with it. Or, better said: because was skilled in his compulsions, it didn't occur to anyone to help him stop.
What I said about La Belle et la Bête in relation to fairy tales applies equally to Orphée in relation to myth: Cocteau's opening injunction to the audience to "interpret it as you will" is fundamentally anxious, since it should go without saying.
Richard Taruskin, writing about the bad faith of Late Romantic music, makes an example of Mahler's 2nd Symphony, at the end of which is an attempt to create a spiritually cathartic climax with the text "O believe, my heart, O believe!" As Taruskin points out, this is exactly what shows that the artist and his audience do not truly believe, since a believer needs no such command; only a doubter is moved by the very idea of belief. That example came to mind when Cocteau instructed us in La Belle et la Bête to watch it innocently like a child, and here when he told us that "A legend is entitled to be beyond time and place." Who said it wasn't? Believers don't defend and explain such things, they just live by them, comfortably. Cocteau's interviews are the same: all that articulate talk about what he's doing and what it feels like and why it's mysterious reveals that he actually stands outside it.
His doubts touch the craftsmanship as well. Often the movie seems to be doing what nervous actors do: indicating rather than being. Only the special effect shots are consistently and overtly the thing itself; only when the artist's anxiety gap has been filled up with the business of technical trickery does the sense of affect really come through. The most artistically satisfying moment in the movie is its most elaborate trick shot: an upgraded edition of exactly the same wall-walking effect already seen in Blood of a Poet.
So all in all this felt a little disappointing. I wanted to be taken somewhere for real, given something for real. Is that so greedy?
---
If you haven't seen the film, the criticism above will be misleading. There is definitely something of some value here. And like I said last time, we should probably try to make the most of such dream-films because there aren't many of them.
In some ways the flavor of Orphée is unique in my experience; it might be called naturalistic surrealism. Very odd poetic stuff is happening in scenes that aren't outwardly distinguishable from ordinary Hollywood fare. Some characters are standing and discussing their situation; the car is pulling up to the house; the woman is staring off wistfully… but the logic of their reality is perpetually half-asleep.
In principle that sounds great to me. The movie that was indicated by this movie was a great one.
There were moments that moved me. The ending is a kind of poignant self-cancellation that felt familiar to me: it's what calming down feels like to those who don't know how to do it, like a kind of nauseating time travel.
Okay, fine, fine, I'll do a quick psychoanalytical interpretation of the movie:
Eurydice = ordinary life = happiness = social self = heterosexual norm = Cocteau's pre-pubescent identification
Death = dream world = fear = artistic self = homosexual feelings = Cocteau's post-pubescent identification
He is unaware of the possibility of a fully unashamed homosexuality, so his commitment to his authentic experience feels like a commitment to fear and to a fracture. Thus the two components of his psyche are unreconciled to one another and he experiences a constant sense of mythic drama as they slosh back and forth, which the movie stages.
Duh, right?
---
It's got his ex-boyfriend and his new boyfriend in it, it's got people representing his rivals and his colleagues, every image in it is drawn from his life in some way. "It is much less a film than it is myself, a kind of projection of the things that are important to me," he wrote. Right, exactly so. And so I don't want to talk about any of that stuff; it would be mere description. In a sense, that stuff is all merely genetic; it has nothing to do with my experience of the finished art, as an audience member.
My experience as an audience member was mostly a genuine neutral. The work simply was. I neither begrudge Jean Cocteau nor love him. Fundamentally, I am not him, and that's the experience I had: I am me and this movie is this movie.
I said of poetry, at one point, that reading a whole body of it is more like encountering a person than like encountering art. So is this. There he is. And reviewing or critiquing people is a category error.
---
The commentary "featuring French-film scholar James S. Williams" of course takes the biographical/psychoanalytic approach, because an academic can't afford not to, but it's not particularly trenchant or compelling. When he announced his intention to point out all the sexual subtext, I thought, "great, let's have some fun with this," but his idea of Freudian fun is to talk about how when men touch each other on the shoulder they're being homoerotic, and how the hand going into the mirror is like a sexual penetration. That kind of thing seems easy and cheap and pointless to me. The movie is completely rife with overt psychosexual significance; why resort to the facile old Where's Waldo "phallic symbol" game? Sometimes a cigar is just a cigar, and sometimes the person smoking it is meanwhile making a movie all about his inner life.
About 10 minutes in, the commentator describes a scene with a couple of men in it as being a "circulation of male gazes." After that I started skipping around. I didn't really listen to the whole thing.
So what else do we have here? A whole second disc's worth of stuff:
• Jean Cocteau: Autobiography of an Unknown (1984), a feature-length documentary
But ah-ha, remember how this release stands in for the whole deleted boxset… well, this is the same documentary that used to be on disc one of the set, which I saw and discussed last time. (Conveniently enough, there were no bonus features on disc two of the old set, which this is replacing for me, so I'm not missing anything.)
• Jean Cocteau and His Tricks (2008), a video interview with assistant director Claude Pinoteau
Ordinarily this kind of discussion of effects and techniques would be interesting, but the techniques are all deliberately obvious so there's not a lot to be said. However I do always get something out of seeing how a participant from the then can still be photographed in the now. The guy is pleasant enough. The notable thing here is that this interview was conducted and edited by Marc Caro (formerly of "Jeunet & Caro" fame, but no longer) and has some outlandishly childish strobing and looping effects stuck on to it for no reason, as though this is playfully artistic in the spirit of Cocteau. It's not. You'd think Criterion would be advertising the name "Marc Caro" in their list of features, but they don't. Surely it's because what he delivered is so dumb and obnoxious.
• 40 Minutes with Jean Cocteau (1957), an interview with the director
As mentioned above. By the time I got to this I'd already spent many hours with Jean Cocteau so another 40 minutes was sort of gratuitous, but seeing him caught in the TV headlights was somewhat revealing.
• In Search of Jazz (1956), an interview with Cocteau on the use of jazz in the film
More old TV, but more in a Charlie Rose vein. Cocteau is more relaxed and in better form generally since he has something other than himself to talk about. His comments on jazz and youth culture were interesting in passing. I'm afraid I already forget what they were.
• La villa Santo-Sospir (1951), a 16 mm color film by Cocteau
A thorough self-indulgence — Cocteau called it "an indiscretion" — which is basically just a glorified house tour home movie where he very slowly goes over all the art he drew on the walls, often putting his finger in the frame and literally pointing at it. Another 40 minutes spent in the company of his nervous vanities; to me this was the most inescapably desperate and lonely document of his little kingdom of selfhood. But anyone's home movies can seem that way to strangers such as myself. If it didn't end with some reverse footage of him assembling flowers out of thin air, I doubt anyone would think of it as a real "film." To me there was something particularly sad about imagining him tearing and crushing these lovely flowers as part of a scheme to create a film image of himself as a magical creator. But maybe he recognized that poignancy.
• Gallery of images by French-film portrait photographer Roger Corbeau
These didn't seem any more remarkable than any other film photographs.
• Raw newsreel footage from 1950 of the Saint-Cyr military academy ruins, a location used in the film
I guess good for them for finding this, but it is really just that; raw footage of a location. Okay.
• Theatrical trailer
As I said, the film outwardly resembles a normal film, so despite its underlying strangeness, the footage lends itself readily enough to being turned into a run-of-the-mill trailer.
• PLUS: A new essay by author Mark Polizzotti and an essay on La villa Santo-Sospir by Williams; and an excerpted article by Cocteau on the film
The essays were both satisfying and on point. I appreciated that they were not unreserved in their respect; the main essay won me over immediately by saying that Cocteau's was artistically self-fixated to the point where some of his particular obsessions "have taken on a whiff of the ridiculous." Usually the essays are available on the Criterion site but for some reason these aren't. The Cocteau article is just as you'd imagine, at this point.
• New cover by Fred Davis
Indeed. If you click on his name and flip through his portfolio you can see two showier alternatives that weren't used.
---
Music by Auric again, a tasteful score if sometimes a bit staid. And once again, somewhat ill-served in the editing by Cocteau.
It has one really excellent piece, a fancy scherzo with sort of a Frenchified Bernard Herrmann sound to it. Unfortunately I can't use it as our official selection because there's talking all over the second half. Here it is anyway because I enjoy it so much and it's not available anywhere else. (There was a rerecording in the 90s of much of this score, including the scherzo, but they take it much much too slow.)
As frequently happens, by process of elimination, the official selection will have to be the Main Title despite its being one of the least distinctive cues in the score.
---
This bland entry represents my best effort at relaxing and not forcing myself to engage too deeply, despite feeling like I was being begged to. Maybe if he hadn't needed it so badly I would actually have been inspired to say more. But that feeling of one's attention being needed can be stifling. "You see, you see, you see?" he is saying, his eyes nervously darting around. I am inclined to say, "Yes, yes, very nice, Jean," and then let my face glaze over in passive defense.
Ultimately I aspire neither to do that nor to cave and cater to the demand. I want to just hold to a route of my own choosing. I'm still not great at it.
I won't deny it: I'll be glad to get out of Jean Cocteau-land. I am trying to get out of my own personal Jean Cocteau-land, and this kind of encounter is a direct challenge to that.
But the list is the list. One more to go.
---
[edit:]
I forgot, I wanted to institute a new feature at the bottom of these Criterion Collection entries: a "still" screen capture of an empty location from the film.