1999: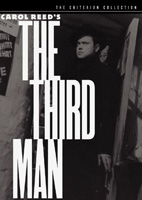 2007: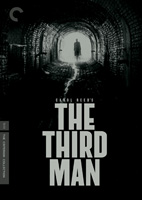 (went out of print 10/2009)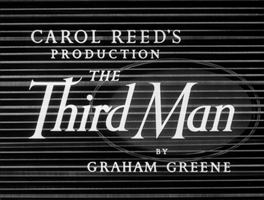 directed by Carol Reed
screenplay by Graham Greene
Criterion #64.
Again, I pick up from last time.
I said that phantasmagorias like Alice in Wonderland offer relief because they let us admit that life is surreal and consciousness is unreliable.
Dutch angles are the same. A crooked world is one with no stable reality. The tilted lens simulates drunkenness, delirium, compromised consciousness in the observer, but in a film like this there is no observer, so the tilt becomes an idea about perception generally, and thus about the world itself: "Maybe, maybe not; you know how things are…" The tilted camera agrees with Alice that there's really no hard distinction to be made between the way things seem and the way they are, and that often they seem quite bizarre — more often than most people want to admit.
(By the way, I really dislike the expression "Dutch angles." But I just chose to use it anyway. This is an example of a phenomenon wherein I assimilate things specifically because I dislike them, apparently trying to neutralize them by ingestion. Not a sensible procedure but unfortunately it's subconscious. I'm learning to stop it, which, counter-intuitively enough, turns out to require accepting whatever damage has already been done. So: Dutch angles.)
A movie like The Third Man can have a spooky dream-comfort, even if it's entirely undreamt, simply because its camera knows that reality always stands at an eerie remove. Maybe in a way it's even more comforting than something like Alice, because it shows us that this distance applies to the everyday, not just to Wonderland.
The music confirms all this. The zither score is famous, which is no surprise because it insists on being noticed: its voice, like the camera, stands apart. It is not quite scoring the movie; it's scoring a watching of the movie. It is an observer and it speaks to us as observers. Carol Reed purportedly found his zitherer in a cafe, and it is explicitly cafe music, meant to accompany a stationary cafegoer's wistful sense of all the folly passing on the street.
The story of The Third Man unfolds just outside of the circle of our coffee. The zither's knowing look is supposed to be Viennese color, but I think it's also about what the rest of the world does when it looks to post-war Vienna, or to any other times and places romanticized for their fallenness. People want to hang out at Rick's cafe in Casablanca — or in Nighthawks for that matter — because world-weariness is actually much more emotionally rewarding than the struggle to stay above it. The continental persona/routine of sighing, shrugging, and indulging yourself another cigarette is tremendously appealing to Americans and Brits who are constantly fighting to prove that it's not so. Noir is release: it's so, and we admit that we know it. If you admit to the broken heart you get to enjoy the cigarette. And the dreamlife of the world around you. Give up and smell the roses.
So the zither and the camera both say: "You know how things are. Of course there's not going to be any need to stop smoking during this whole story." When we see a corpse floating in the water at the very beginning and the voiceover says "Some businessmen weren't as savvy," or whatever, the terms of our wry detachment are being declared. It's only sardonic, "cynical," if you have a stake in it. Noir — good noir, anyway — has no stake, other than a refusal to pretend to be surprised. Even if that too is a kind of posture, it's a rewarding one: a calm one.
This isn't a mean-spirited movie, after all. I don't know if Graham Greene was a mean-spirited person — he may have been — but the screenplay seems born purely out of a sincere desire to be interesting, to be diverting. It very cleverly manages to have real social morality in it without doing what Casablanca does, which is give in to it. The curtain has to fall very quickly in Casablanca because the noir jig is up. Here, taking the moral high ground just means nobody gets what they want, so the curtain is free to fall very, very slowly.
The last scene and the basic moral equation are copied in Miller's Crossing, which I've always liked; other aspects of the ending are copied in Tinker Tailor Soldier Spy, which has been a ready point of reference around here for the past couple years (and which is, probably not coincidentally, about the same person later in life). But those two works have in common a puzzly convolutedness that The Third Man doesn't really attain; their noir conclusions are the knot still left in the rope after a great show of complication and untangling. I think that may be a structural improvement on the The Third Man, excellent though it is. The first half has plenty of mystery and portent but the plot is almost confusingly straightforward; I had to keep wondering if I was missing some extra strands of the story, since the simple one I was following didn't seem to justify all the texture and wit and breadth of detail that was being lavished on it.
(To be honest, I had a sense of dissonance between the means and the ends many times throughout the movie, but I think of it as a personal problem of mine: once I've cranked up my brain to be as quick as some of the denser parts of this screenplay demand, simple sequences can touch off my anxiety: "So now they're just, like… chasing him around… right?")
Orson Welles's role really isn't much more than a kind of prize cameo, but people remember him vividly because when he shows up, 2/3 of the way through the movie, not only have we been building up anticipation about his character the whole time, we've also been building up anticipation about what is the underlying conflict of this movie?, which he finally articulates. Before that, we can basically intuit what's at stake because we've seen movies before, but we don't actually get to know it on screen until very late in the game. This makes for somewhat disoriented first viewings but wonderful second viewings, when we can sip our coffee and bask in the deliciously glum offhandedness of it all.
And maybe, as with Citizen Kane, there are no pure first viewings anymore. Even on my first go, a few years ago, I knew what was up and why. Maybe that kind of clean slate never existed in the first place, for anyone. Why else would they be talking so damn much about Harry and whether he's good or bad? Hey, and do you remember that girl Laura? Man, she was beautiful and charismatic, right? And either good or bad! Oh and remember that Rebecca? She was really beautiful and charismatic, and either good or bad, you know?
Actually, the three cases are all rather different from each other. Well, no matter. The point is just that I'm no fool. And the point stands.
---
(Yeah, so I'm using the term "noir" a bit loosely. These aren't all strictly films noirs. But there is a general spirit of tragedy-as-worldliness that extends through many genres of the same era, and it deserves a name. And I think "noir" gets it across. Here it has a distinctly upscale international flavor: the wisdom of having been a few real places and seen a few real things about how the world works. But the underlying downward glide is the same. It makes some sense that this is how Brits would frame their disillusionment. Post-imperialist noir.)
---
What I haven't quite articulated yet is that this is a strange sui generis movie. Much like M, with which it shares more than a few images, it contains iconic moments that seem to encapsulate a genre to which it does not itself entirely belong. Not that it specifically belongs to any other genre. It is, like M, an "interesting text": instead of laying out its track in the expected straight line, it keeps looping back on itself until it forms a little village. You can walk it from one end to the other, but what's really being offered is a single unified place: this movie. That's often the mark of a classic, since it breeds nostalgia: remember the time we spent inside that movie?
I think some of this effect may have to do with its Britishness. Foreign films — even only very very mildly foreign ones like this — often seem to me to have intriguing dramatic or aesthetic "impurity" or "heterogeneity," when really they're perfectly unified and well-formed; they just don't happen to exactly align with my very closely-trained American expectations. What seems to me like a touch of "high" nonconformity is actually just conformity within a different cultural psychology. I'd like to believe that I could benefit from letting my heart (and my inner dramaturg) find these alternate centers of gravity. But locating the exact emotional holes inside myself, through which I can lower myself to feel things a bit more Britishly, is not an easy task. During the course of a single movie it's not going to happen; I would have to be immersed in the culture for a long time. (This has happened for me with some kinds of classical music, but only over the course of many years, and even with those I tend to lose the breadcrumb path when I try to return; one is always more likely to listen with the ears of the moment, no matter how stupid the moment is.)
So anyway, as far as me-of-the-moment goes, there's something "interesting" about The Third Man, and my ambivalence about this sort of thing still holds: part of the fun of a thriller is in how thin a show it is; maybe I don't want a thick one.
Nonetheless I still admire this one. It's just the right thickness to be able to satisfy all sorts: a golden mean that many movies wish they could hit. How would you like that done? Medium rare.
---
I could have sworn that somewhere very recently — like, in one of the essays in the packaging — I had read someone talking about how The Third Man shares a basic structure with The Great Gatsby, where we follow our observer-protagonist closer and closer to someone who's reinvented himself as a mysterious and dashing man of the world, ultimately to discover how phony and desperate that new identity really is. And I could swear that, wherever I read this, it was followed by a point about how Gatsby is popular for the wrong reasons — i.e. for exactly the glamour that it purports to debunk — whereas nobody comes away from The Third Man wanting to be Harry Lime.
In the scene on the Ferris wheel, when Orson Welles tries to be cavalier about everything and keeps calling Joseph Cotten "old boy," but is actually nearing the end of his rope, I was spontaneously reminded of it, this thing that I read. "Ah yes," I thought, "that point about The Great Gatsby rings true."
And yet just now I've gone back in search of the source and can't find it. It's not in any of those Criterion essays after all. In fact it's not in google, as far as I can google. I think it must not have been about The Third Man, it must have been someone writing about something else in relationship to The Great Gatsby. But what? Or was it maybe an essay I read only in a dream? Maybe it was a premonition of this essay? Seen at a Dutch angle?
If anyone can explain what's happening to me, please do.
---
Okay, okay, you don't need to: I found what I was thinking of. It was actually from when I was rereading various articles about Stoner to locate a similarly half-remembered tidbit for the previous entry. It's a New Yorker piece that calls Stoner an "anti-Gatsby," and then posits that Gatsby is popular because people envy Gatsby. The Third Man doesn't enter into it. But you can see how this worked in my mind. I vaguely remembered reading a comparison, felt it superficially locking into place, and so retroactively invented what that comparison must have been.
So the point I've just made, about Holly Martins being kind of a dopey Nick Carraway to Harry Lime's corrupted Gatsby, turns out to be my own.
For very superficial reasons I also thought of him as a sort of a dopey Richard Hannay, freshly arrived from across the pond and guilelessly falling into a smooth black-and-white fantasy of impenetrable European conspiracy. I wouldn't take the time to say this except for the one very striking commonality: both movies have the protagonist running for his life at high speed and then abruptly deposited at a podium and forced to give an impromptu lecture. I suppose this is a joke that occurs independently to anyone who's ever been asked to give a lecture; I imagine John Buchan and Graham Greene were each drawing on personal experience. Or recurring dreams; I don't have quite that one but I know it's common. The jolt of tone and tempo, so characteristic of inter-dream transitions, is the crux of the joke in both cases. Like a moving train car bumping hard into a stationary one on the same track.
---
Connection to the previous movie: Confusion about whether someone is alive or dead. Or: the whole movie exists to take advantage of a decaying real-life location.
---
This Criterion 2-disc set is so packed that I am admitting defeat. I can't get through all these bonus features. It's already overdue at the library (I can't renew because it's on hold!) and I can't force-feed myself any more.
Yes, I know I could check it out again later but come on.
I will list in the order given on the Criterion site. We have:
• New, restored high-definition digital transfer, with uncompressed mono soundtrack on the Blu-ray edition
The movie itself looked great on the DVD; I couldn't find the Blu-ray. This title has been out of print for 5 years, and it seems to me that libraries have only started daring to purchase Blu-ray in the last year or so. And we all know nothing this famous can survive 5 years at Netflix.
• Video introduction by writer-director Peter Bogdanovich
This is in the manner of a TCM promo spot: just a couple minutes of informal interview musings. There's nothing particularly introductory about it other than that it's short. And a movie like this needs no introduction. It's fine, but here begins our journey of hearing the same thoughts from ten different sources.
• Two audio commentaries: one by filmmaker Steven Soderbergh and screenwriter Tony Gilroy, and one by film scholar Dana Polan
Steven Soderbergh and Tony Gilroy are just some arbitrary movie dudes (I guess the connection is that Soderbergh had just made The Good German?) but that's fine with me — so are the "experts" always just some arbitrary academic dudes. And I'd rather listen to movie dudes. This is a perfectly listenable conversation, mostly about craft. (Tony Gilroy: "The best way to do exposition is to have two people arguing.") Commentary tracks that represent actual social situations pretty much always work for me, even when it's just the awkward reunion of the director, the editor, and the star, or whatever. Tracks that are a person alone with a script and an academic reputation to uphold are a lot less likely to succeed. This guy Dana Polan does okay — he never says the film is "investigating" anything, but he does make a lot of reflexive "itself" claims. You know: "…can be read as a comment on the film itself." This always reminds me of Larry Kroger's essay on Macbeth. (It also reminds me of more than a few of my own efforts. All the more reason not to want to hear it.)
• Shadowing "The Third Man" (2005), a ninety-minute feature documentary on the making of the film
This one I didn't get all the way through. There are probably a few jewels in there that make it worthwhile but there's also a lot of projecting whole scenes of the movie against buildings in Vienna, which is a dumb and worthless gimmick. That and I'd already heard all the stories in the commentaries, and the essays (see below), &c. Also I recalled getting burnt by the lame documentary on the Black Orpheus set. It's all very admirable of Criterion to go out and find these things and bring them on board. I just wish they got to edit them too.
• Abridged recording of Graham Greene's treatment, read by actor Richard Clarke
This is a third alternate audio track. The treatment was later published as a novella, and it stands as a legitimate prose sibling to the movie. But hearing it read while the movie is onscreen is completely unsatisfying. I made it through about an hour's worth with my attention constantly wandering and finally stopped. This happened with Lord of the Flies too. Apparently somewhere out there is recording of this read by James Mason that a couple of internet fans really like. Doesn't seem to be available anywhere. Why didn't you get that one instead, Criterion? I guess because you'd already produced this one back in your younger days.
• "Graham Greene: The Hunted Man," an hour-long, 1968 episode of the BBC's Omnibus series, featuring a rare interview with the novelist
Oh, oops, that sounds good and I completely forgot it was on there. But I have to return the disc in the next two hours or pay more money! Listen, I watched the movie, that's 104 minutes; then 2 commentaries, that's 208 more minutes, at least 60 minutes of the treatment, 20 minutes of the documentary, 30 minutes of the documentary I haven't even gotten to yet… that's 422 minutes! 7 hours, to you! 7 hours of The Third Man, and all of it repetitive because there are only so many stories to be told here! Get off my case!
• Who Was the Third Man? (2000), a thirty-minute Austrian documentary featuring interviews with cast and crew
Right, I watched this one. It was totally totally goofy, European TV style. Again, by now I knew nearly everything it had to tell me. But if you wanted to see what the little boy looked like grown up, you will get your wish.
• The Third Man on the radio: the 1951 "A Ticket to Tangiers" episode of The Lives of Harry Lime series, written and performed by Orson Welles; and the 1951 Lux Radio Theatre adaptation of The Third Man
That's 90 more damn minutes! And look at those links! I could listen to these any time. I'm listening to them right now as I type this, in fact. Sounds fine. My review is: these sound fine.
• Illustrated production history with rare behind-the-scenes photos, original UK press book, and U.S. trailer
Yes. I did look at all this stuff. The U.S. trailer is a striking Selznick's-eye-view of the movie: it makes no mention of Orson Welles (bad for the box office!) and pushes as hard as it can on the romance angle.
• Actor Joseph Cotten's alternate opening voice-over narration for the U.S. version
More Selznickery. This doesn't work at all, and he apparently made a bunch of other cuts to try to make the goings-on more sympathetic. Be glad we live in an enlightened era when the US version is no longer the US version.
• Archival footage of postwar Vienna
This encompasses a few very brief newsreel and documentary snippets, including a bit about Anton Karas. I was happy to watch this stuff. I wish they had carved out the worthy bits from those other documentaries and presented them this way.
• A look at the untranslated foreign dialogue in the film
Sure, that's nice of you. But guess what: they're saying what you think they're saying.
• Optional English subtitles for the deaf and hard of hearing
I appreciated that they were optional!
• PLUS: A booklet featuring new essays by Luc Sante (DVD and Blu-ray), Charles Drazin (DVD only) and Philip Kerr (DVD only)
When you get these out of the library, the booklet is occasionally present, but usually it's missing. This time it was missing. I read the essays on the Criterion site and you can too. They don't mention the essay from the original 1999 release, by Michael Wilmington, but that one's there too. Reading all of these straight in a row will give you a good sense of where I am now. Ready to be done.
---
Music, by Anton Karas, a restaurant-zither-playing Austrian nobody. Nobodies can do a pretty damn good job when they're given the opportunity. My sense is that Carol Reed sort of squeezed the music out of him over many many sessions of telling him what to do and then having him improvise it, but there's nothing wrong with that. These things are almost always a bit more collaborative than the credits would lead us to believe. In this case the credit is actually pretty clear: "Zither Music Played by Anton Karas," which I think correctly implies that the music has not been "composed" by anyone, because it does not come from a tradition of composing, just playing. It has been, like pop music, simply "produced," by Reed. The score is one of the best of all time and can be fairly said to make the movie.
The Main Title. The so-called "Harry Lime Theme," which is really a "the story of Harry Lime" theme. It isn't the sound of Harry at all. It's the sound of his value to the audience. This is not a subtle distinction.
Playing the zither looks pretty hard.