2000: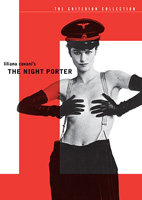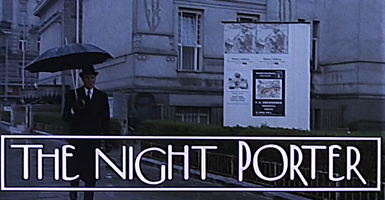 directed by Liliana Cavani
screenplay by Liliana Cavani and Italo Moscati (in collaboration with Barbara Alberti and Amedeo Pagani)
story by Liliana Cavani, Barbara Alberti and Amedeo Pagani
(Some sources have it that the proper "original" title is the Italian Il portiere di notte, I guess because it was produced in Italy, but to my mind that's not sensible. The dialogue is all in English and so are the title cards.)
Criterion #59.
"Night porter? I hardly know her!"
(Oh, wait a minute, I do know her! From when I used to rape her in that concentration camp. Right.)
This movie sucks.
It's not trash because the material is offensive. It's trash because if the material weren't offensive, there'd be no movie. Being able to épater le bourgeoisie is meaningless; anyone can if they want to. Everyone's got an asshole. The question is not whether you can manage to take a picture of it. The questions are 1) why you're taking it, and 2) how good the picture is.
As for 2, this movie sucks. It's completely static and undramatic. It doesn't live properly. Very bad looping of worthless dialogue. Clumsy, plodding pacing and editing. A general and constant impression of second-rateness.
As for 1:
First of all, let me digress and say that I don't much like the term "exploitation film." People who use it tend to specify what's being exploited, but not what it's being exploited for, which is just as important to the concept of exploitation. The implied answer, I guess, is: "for attention, which equals money." But that's rarely the psychological reality. Often, in fact, the purveyors of such stuff are profoundly fond of the thing they are selling, and eager to get it out there. Not cynical at all, and certainly not indifferent to the questions of degradation that the term "exploitation" is intended to expose; it's just that they truly don't think that what they're doing is damaging to anyone. Critics need to remember that pornographers really do approve of pornography, and very often the subjects don't perceive themselves as being exploited or degraded either. So "exploitation" is sort of a leading term, part of a missionary moralism that tries to save e.g. pornographers and their subjects and their audience from a system that none of the parties involved think is bad for them. Only their critic-saviors do. It's sort of a Marxist term that's too often used as an aesthetic term.
(Alternately, it's sometimes just used to mean "low budget film," with the rather offensive implication that when a major studio tries to profit from a movie about X, that's simply the upstanding world of business, but when the little guy tries to profit from a movie about X, that's an attempt to "exploit" the popularity of X to make a quick and dirty buck: sleazy coattail riding. Thus the same term can be Marxist and elitist.)
That all said, I do feel like this movie is exploitative. It chooses intentionally offensive material as a way to win prestige and attention. I don't much hold with the concept of "taste," when I can help it. But it's all too obvious that this is quite deliberately "tasteless." If you just imagine this same movie with the swastikas removed — imagine that the guy was just a run-of-the-mill peacetime rapist — it becomes instantly transparent how absurd and pretentious all the languorous self-seriousness is.
I found it immensely boring. The only interest it held was a kind of bated breath about how offensive it would, presumably, reportedly, eventually be. But you have to watch for a whole damn hour before it gets to the Nazi sex. Yawn! And who are these characters apart from being the figurines in this scandalous tableau? They're nobody. What am I supposed to care about other than my own sophistication?
It's a narrow fantasy of "difficult material" just as pornography is a narrow fantasy of sexuality.
Yeah. Hm. That gives me a thought. So actually, I take it back. Maybe it's not necessarily exploitative after all. I can imagine it as uncynical, as just clueless and asinine. It feels a bit like "dark" comic books often do: like hopelessly constricted minds doing their best impression of going exploring.
It's possible that the filmmakers really didn't understand the difference between sadomasochistic sex fantasy and actual torture.
My inner Herr Doktor Freud says: the people who get turned on saying stuff like "I've been a very very naughty girl" are the ones who can only conceive of freedom in terms of disobedience, because they have a complex: they can't help but constantly project a disapproving authority above themselves. This projected authority is an imaginary party to all their acts and will thus figure in their fantasies, in various guises. This movie is about Nazis who are just such projections, Freudian functionaries. That's considered tasteless not because the emotional impulse is horrific — it's not — but because there were also real Nazis who killed real people, people still remembered by the living… So for the sake of a publicly exhibited movie, why couldn't you get your Freudian function fulfilled elsewhere, just as a courtesy? For example, how about a movie about a meek young director and a viciously authoritarian censor who suppresses her film, who have hot sex when they meet 20 years later? I would be fine with that. (Though it too would be super-boring if it were made as badly as this.)
So yeah, this is sort of like fan fic from a gross webpage with a black background and flame gifs. Fifty Shades of Gruppenführer. (Don't go googling! I'm sure it's out there.)
The saddest thing, the greatest offense, is that when I make the effort to really give the material the broadest possible benefit of the doubt, I recognize that the scenario does have real potential. The subject is private meaning, private emotion, which does not respect taboo. We must hole up with our private selves for as long as we can until we are inevitably hunted down by society's unfeeling concepts of good and evil, right and wrong, guilt and justice. And Stockholm syndrome/S&M are categories of emotion that are at least somewhat problematic to most people: the more taboo the material feels to the audience, the more urgent our sense of that conflict. Okay. I see the rationale. But this movie does not have anything even close to the skill necessary to make good on that potential. It's like the sophomore drama society, in way over its head.
They wrote it too. Script sample. After the night porter has sex with his giggling former victim, he goes down to the hotel bar, opens a beer, and soliliquizes: "When all seems lost, something unexpected happens. Ghosts take shape in the mind. How can one pull away from it? This phantom with a voice and a body: it is a part of oneself."
That shit is deep! And mad challenging, yo, 'cause he's a Nazi, what?
The photography's okay. Dirk Bogarde seems to be trying very hard to make something of this, and Charlotte Rampling is, obviously, very game. In the abstract it's admirable professionalism. But I didn't watch it in the abstract.
Ties to the preceding movie: 1. Yet again, camera = rape. 2. The Magic Flute, recording conducted by Karl Böhm.
I'll admit that some of my anger may be Criterion inflation. This is in many ways just a B movie with pretensions. If I saw it with no expectations in the course of screening random Italian films from 1974, I might say, "That wasn't for me, but it was certainly weird and daring." Maybe. But I would still have wished it had been a short, instead. (And a smart, too.)
It's like a performance artist whose act is lying naked on stage for 2 hours, and who keeps peeking up to see if you're shocked yet. I freaking get it, all right? What else are you going to do???
This movie can go night port itself.
Music by Daniele Paris. Here are the end titles. The music runs 30 seconds too long for the actual credit roll so some black leader is appended. Thus the movie manages to be clumsy all the way to the bitter end.
Furthermore, the editor screwed up and cut out a few seconds of music by mistake, leaving a jolt in the soundtrack. I have restored them from the main titles, which use the same recording (though with sound effects, so you'll hear subtle traffic sounds for 2 seconds). You're welcome.
---
So it would seem that Liliana Cavani is a lesbian. Gauche as it may be to admit this: that offers me a way of making some sense of this thing. From her perspective, this is all allegory; not just the Nazi and the prisoner but the man and the woman too. The real story is elsewhere.