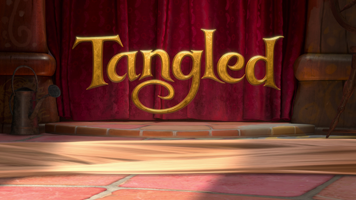 [Warning: thorough spoilers. As has often been the case in these discussions. But this one I'm thinking maybe you haven't seen yet.]
BROOM This project is fifty!
BETH I thoroughly enjoyed it and thought that it was one of the better structured stories that we've seen in a really long time. The script was really smart. But I didn't like a lot of the micro- level things. The jokes felt too 2010 and I think won't age well, and will seem kind of obnoxious in the future. But maybe in a charming way, the way that The Sword in the Stone seems charming in its 60s-ness.
ADAM The humor has kind of a Monkey Island quality, to me.
BETH He looked like Guybrush!
BROOM It felt like a video game in a lot of ways. A couple of which I like, and many of which I don't.
BETH Visually, I have very mixed feelings about it. I thought her eyes were distractingly, wrongly big. He looked fine, so I don't understand why they had to do that to her.
BROOM Because she is, and I'm making quotes here, "pretty." It's important for pretty characters to have giant eyes.
ADAM What did you think of her manic-pixie-dream-girl haircut at the end?
BROOM I was thinking, "everyone in the audience knows that can't be done with just a single slice." Spoiler alert!
ADAM I agree with you about the story. I think the fact that many of the characters had semi-plausible psychological motivations – as opposed to "we must get the MacGuffin" – was satisfying. And the mother's psychology actually seemed convincing to me, something that a teenager might empathize with.
BROOM But that's exactly one of the things that… Let me first say that I had mixed feelings about this movie, and I'm not sure that just expressing both halves of it will encapsulate my reaction; I think I need to resolve my thoughts and I haven't yet. It'll take me some thinking about it.
BETH But you should just do what you always do and say everything.
BROOM I'm going to. I'm just prefacing this by saying that I don't think my final judgment of this movie will be as split as I feel right now. During the movie my opinion was on a roller-coaster both superficially and analytically, and now that I've seen the whole thing I'm trying to figure out what that adds up to. And I don't know. But one of the things that I thought was potentially problematic – when I hear myself say this maybe I'll find out whether I think it was really problematic – was that a teenager could identify with being manipulated by a parent, but this turned out to be the false-parent witch character! They made a point of having them say "I love you" to each other, which we as sensitive children are able to recognize as a bullshit "I love you" that a witch forces you to say. But then the fact that we can recognize this relationship in our real relationships with our parents… I don't know what we're supposed to take away from that. It's weird to have a mother-daughter relationship that is completely false in a movie for kids.
BETH I think it wasn't completely false. I think there was some real love; I think they had gotten to a place where Rapunzel loved her mother for real, and the mother loved Rapunzel in her needy insecure way that a lot of mothers exhibit.
ADAM Yeah. When she says she'll go get Rapunzel special stuff for her paints, that was really affectionate.
BETH I think that was real.
BROOM Well, what you're describing is the relationship from "Into The Woods," which this is clearly patterned after. And by the way, it seemed clear to me that they knew that their target audience overlapped too much with the audience for "Into the Woods" to copy it exactly. So I figured the difference will be in how it ends. And it just ended with a standard villain death. It did not end with any kind of ambiguity about whether she had ever felt real love.
ADAM Well, this is a Disney movie!
BROOM But that's exactly why it's weird to have them saying, "I love you," "I love you" and then suddenly say "oh wait no, you were a witch, you were a phony mother all along!" It's weird. Like I said, I have to work this out. While watching I was worrying about kids seeing this, that the next time their parents were manipulative, they'd worry "are you really my parents? do you really love me?"… but then I thought, "calm down, kids work this stuff out better than that kind of paranoia gives them credit for." But now that I've seen it all the way to the end, I'm not so sure what they'd work out.
ADAM That stuff's all over Grimm's fairy tales.
BROOM But Grimm's fairy tales aren't "contemporary," and full of attitudirific dialogue to show you that "hey, it's your awesome world, kids." Fairy tales are safe exactly because they take place in a fairy tale world!
BETH But this is clearly a fairy tale.
BROOM It is, but her manipulation was not fairy tale. That's why I say it's so obviously patterned on "Into the Woods." The real Rapunzel story is that she's kept imprisoned in a tower. This idea that she and the witch have a sort-of-mother-daughter relationship is not implicit in the fairy tale.
ADAM But that's much more interesting than just "she's kept in a tower," right?
BROOM It is interesting. But in "Into the Woods," the use of it is toward this thematic idea that all family relationships are imperfect, have darkness in them, and you're going to be alone at some point. This movie started there and then just developed toward an ordinary villain relationship. "You want me to be the bad guy? I'll be the bad guy." So the ambiguity got washed away in a weird direction. I don't really know what the upshot of that is. I have to mull over it.
ADAM I think Eddie would have liked the funny dialogue in this. It was just knowing enough for a child. It had that same "Tiny Toons" knowingness quality that I often extol.
BETH Part of what's funny is just the tone. And I think kids can get that it's "hey hey!" funny even if they don't understand it.
ADAM It's funny just that a big axe-wielding executioner is a mime. And it's funny also that Guybrush Threepwood is rolling his eyes during the funny song. And that the horse and Flynn keep elbowing each other.
BETH I thought the horse was a great character.
ADAM It was cute but menacing.
BETH It was actually a character.
BROOM I don't want to be the crank, but that stuff you just talked about is the stuff that I didn't like. I thought, "this is everything about Broadway that I don't like." And I'm not just talking about the songs. It's the way the characters were presented, and the way the dialogue was presented.
BETH I didn't like that either. I was just saying I could understand that kids would respond to that.
BROOM During that "we're tough guys but we're singing about our dainty dreams" song, my thought was… You know, whenever I type these up, I think, "why do I always have to say 'my thought was' and then an entire paragraph in quotes? I just should say it now. 'My thought is this now!'" But the reason I do this is because I don't know if it's my thought anymore. I just know that it was my thought half an hour ago.
ADAM This is a testing forum.
BROOM Yes. So. I was thinking, quote, "this would be funny if it wasn't telegraphed. And a kid would get this perfectly well even if it wasn't telegraphed." If a big guy acted dainty, that would be it, it would already be funny. Instead of a song with the lyrics "Even big guys have dainty dreams! My dream is dainty! My dream is dainty too!" and everyone else rolling their eyes and signalling "boy is this weird!" The whole song was that. I wasn't able to be amused by it at all, because it spoke everything. As much of the movie did. And I thought, "little kids don't actually need that. They're not doing it just to be clear to kids; they're doing it as a stylistic choice." Which is what I don't like about Broadway, the idea that telegraphy is of course the only possible mode.
ADAM Yeah, I didn't like that chameleon that kept, like, "pointing" the jokes after they were made.
BROOM I didn't mind the chameleon. I thought, "hey, the chameleon's motions are pretty small. Kudos to them for keeping them small." What I didn't like was that the movie started with [sings forcefully:] "Here's your hero! She's a kid like you! It's a Broadway show!"
BETH But the mom's Broadway song was really good!
ADAM It was great. It both sounded good and had great lyrics.
BETH It was really Broadway, but I really thought it was effective.
ADAM Kudos to them for going back to their theater-fag roots. It really does work well with unashamed fairy tale. This was sort of unashamed fairy tale in its structure and resolution…
BROOM So let me say what I liked about it: the fairy tale. I believe the story of the movie's development was that they were developing it as a beautiful fairy tale story, but then at some point decided "this isn't going to be Rapunzel, it's going to be TANGLED!!! And she's gonna say 'like' a lot in the lyrics! And it's gonna have 'tude!" And I thought that element was strong at the beginning, and then sprinkled in various key places throughout, but the bones of the movie were actually not an attitude movie. And I enjoyed that movie, the straight story.
BETH That's what I was saying. That the script, on a macro level, was great.
BROOM I mean, I don't think it was special. Just that it worked well enough and I was willing to watch it.
ADAM But it did work.
BROOM At the end, she could have cured him…
ADAM It's okay. It's better for her not to have the magic hair.
BROOM I know, I'm saying he could have cut it right after she cured him.
ADAM That would have been a little too legalistic.
BROOM It would have been a better choice. Like, if you were there.
ADAM But it would have been in implicit violation of her promise. Maybe it wouldn't have been her fault, but she would have broken the promise.
BROOM When she was making the promise, I was wondering, "is the moral of this movie going to turn out to be 'go ahead and break your promises to your parents, if they're evil!'?" When she said, "I never break a promise," I thought, "well, promising never to leave this tower isn't good for you. Screw the promise!"
BETH I had that thought. I also thought, "Oh, they're going to let him die! That's great!"
BROOM I also thought he was going to die.
BETH I was completely okay with that.
ADAM Nope. There was a second form of magic that you didn't know about.
BROOM I liked that, because that happens in Grimm's fairy tales, that tears fall and have a magic power that has not been announced previously. I thought, "Great! Now kids have seen that in a movie." I also liked that the magic was pure pagan sun magic. It had nothing to do with artifacts or spells. "The sun dropped a droplet of magic. Here we go." I was down with that.
ADAM I thought her look was really great. She looked a little like Bernadette Peters, in a distracting way.
BROOM Donna Murphy we're talking about?
ADAM Yeah. You mean Mother Gothel.
BROOM Well, that's the Bernadette Peters role.
ADAM Oh, she is? I didn't know that.
BROOM You've never seen "Into the Woods"? When you see it, you're going to go, "oh, Tangled kind of ripped this off." Big time. Like, when the mother sings, they must have had a meeting and said, "so the mother has to sing the song from 'Into the Woods,' but it can't be the song from 'Into the Woods,' she has to sing something distinctly other than that." So what was this song?
ADAM "Mother Knows Best."
BROOM The song in "Into the Woods" is "Children Must Listen." The world is dangerous and children must listen. It's the same except it's not funny there. The songs here almost all had a quality of "it's in quotes, folks!" that I don't think contributes to anything other than what you mentioned, Adam, that sense of knowingness, which I think is just a shame! It hurts my heart that this was going to be a fairy tale, so why did she have to have Bratzed-up lips at all? I know it was just a little bit, but why at all?
ADAM But, like, "Be Our Guest" has that same lyrical ridiculousness. And so does "Under the Sea," and all of the songs we really like from the last twenty years.
BROOM Well, both of those are straight-up celebrations of whatever they're about.
ADAM But there are ridiculous puns about the dancing flatware.
BROOM The point of both of those songs is "what's going on is great." This movie didn't have that kind of song, quite. They had that scene where they danced around in montage. I kind of liked that scene.
BETH Yeah, that was a good scene.
BROOM I thought the look of the animation also had that "Attitude!" "Attitude?" "Attitude." "Attitude!" "ATTITUDE." "Attitude!" on-and-on snappy quality.
ADAM You didn't like that montage of quick cuts where she's trying to force him into the cabinet at the beginning?
BETH I did not.
BROOM I just didn't like the spirit of that, that pervaded.
ADAM That's just cause you're old, man. You're a fuddy-duddy.
BETH That's exactly what I don't like about it either.
BROOM I mean, the CGI has this sterility to it already. They need to do everything they can to actually humanize it, not go in this other direction.
ADAM Okay, there were some things – like the Thunder Mountain Railroad sequence – that I could have done without; that was a little too much. But I thought she looked good, I thought he looked good, I thought her hair looked really good and moved around in a satisfying way. I thought those lanterns were over the top but actually very pretty.
BROOM I got used to the way the characters looked after they had finally had a couple of scenes that were just story and being direct about what they wanted as characters. As soon as it got to the scene in the firelight where they start being honest with each other, and then the mother shows up and sets up her scheme, I thought, "I can watch this now! A plot is happening!" But when they were introducing the characters and they way they did that was just a lot of "hey I don't know about you but I've got a quip to say…" followed by the 'tude face, which a person can't actually make but I'm trying to make. I'm trying to make my eyes get bigger on one side than the other. Anyway, that stuff is not character! Kids get so much of that already! That's what's so heinous about Bratz.
ADAM No no no, Bratz is not that.
BETH Bratz is much worse than that.
BROOM Bratz is just the extreme form. "If your lips look like this, then you're done." This movie is kind of like, "If you go like this ['tude] and then go like that ['tude] and then do a take like this ['tude]… then you're done." I appreciated it when he said "I'm a big phony and I actually have these other feelings." But she never got around to saying, "Hey, I'm a big phony too; I don't know how I learned to be such a wiseacre since I live all alone."
BETH That she was essentially socially normal was not believable.
ADAM Okay, come on. Also that her hair was not trampled and dirty after she went through the forest. Let's have some suspension of disbelief here, people.
BROOM She was socially normal for a theater girl. The obsession with sarcasm.
ADAM She wasn't that sarcastic. She had a kind of nerdy innocent that I thought was charming. She wasn't actually completely socially adept. And I did really like the scene of her giggling and then crying and then giggling and then crying. I thought that was amusing and sort of apt.
BROOM It would have been okay if I'd believed in her core, that she was grounded. That's the point of having an "I want" song at the beginning of these things – which they kind of did, but it was such a teeny-bop kind of song…
BETH And it was also very "Part of Your World." But much worse.
BROOM That's what I mean by the "I want" song. But her yearning song didn't show her heart. It was just this very poppy "So then I cook a meal, I paint the walls again, and I wonder when I'm gettin' out of this place!" It's basically all like that, so it never answers the question it's supposed to, which is "What is it like to be you? What do your feelings feel like? They don't feel like that song. Nothing that you've done is what it feels like to be you." So half of the movie just had this very surface-y quality to it. During which I was just thinking, "Oh god, it's everything I hate about Broadway and video games…" And then suddenly it felt like they were genuinely telling a story, and I relaxed.
ADAM It was a well-executed Broadway-slash-video-game.
BROOM I feel like good execution would be a movie where I was just sucked in and didn't feel this way.
BETH I was pretty sucked in.
BROOM From the beginning?
BETH Yeah. I mean, I was thinking, "these jokes are not my style; I'm not finding them funny."
ADAM But at least they weren't fart jokes. Honestly.
BETH I felt like I could look past that stuff.
ADAM Rapunzel was authentically girly but still convincingly heroical. I don't know, man, I think that your anti-contemporary dyspepsia is coloring your opinion.
BROOM What was the last one we saw? I didn't feel this way about it.
ADAM We didn't really like The Princess and the Frog.
BROOM Well, I didn't feel this way about it.
ADAM Well, there was no 'tude in The Princess and the Frog.
BROOM Right, so it's not just a contemporary thing, it's a particular way of being.
ADAM And then we criticized it for being wooden and politically correct!
BROOM Well, that's a different issue!
BETH How can they win?
BROOM I'm just saying, it's not like I have a one-note complaint. It's specific to what I just saw. And I want to reiterate, for parts of it I was like "oh, now it's working."
ADAM So what was your single favorite element?
BROOM I think… when they got to the kingdom and were just dancing around, I had a nice moment. "This scene is about whatever it feels like." I enjoyed that, and I would have enjoyed that as a kid. I think I liked that sequence the best.
ADAM I really liked Mother Gothel. I mean, I've never seen "Into the Woods," but I thought she was just fresh and clever. This movie reminds me strongly of [Kendra Koppelmeyer].
BETH I was thinking about [Kendra] a lot!
BROOM When I said "normal for a theater person," I was gonna say something about [Kendra].
ADAM Sorry, [Kendra]. Don't use her last name in the transcript.
BROOM I'll transcribe it as, um…
BETH [K], period.
BROOM I'll just make up a different name.
ADAM But put it in brackets to make it clear that it's not what we were really saying.
BROOM "Kendra."
ADAM The mother seemed really stage-mother-y to me in a way that was satisfying. I mean, I guess she was vaguely related to the agent character in Bolt.
BROOM That's what you said during Bolt.
ADAM I cited this movie?
BROOM You said "wait til we see the mother in Tangled." I'm not sure I see the connection there.
BETH I'm not sure I do either.
ADAM Well, I do, because apparently I've cited it twice without remembering. I don't know, the sort of manipulative fake sincerity. Maybe that speaks to me for some reason, I don't know why.
BROOM I feel like the wonder of this scene we're looking at on the menu screen now, the tower in the hidden valley, is…
ADAM This frankly looks more like the Black Cauldron video game.
BROOM Yes, some fantasy world. And the part of me that enjoys that sort of thing is a part that has no interest at all in attitude and a lot of quips in this mode. They're motivated by a kind of phoniness – he admits! The character admits as much in the movie, which was an interesting thing to have happen.
BETH But the movie was still doing it.
BROOM The movie was still living that way. I wanted the movie to sit at a campfire and open its heart and say, "I'm actually just a fairy tale. I just act like I'm a hip kids' movie because I feel like I have to, like no one would like me if I was just a fairy tale." And then we could say, "I like you better this way."
ADAM I don't know man. I mean, this is a commercial enterprise. It's like you want it all to be Maurice Sendak or something.
BROOM You can try to caricature "a nice fairy tale movie" as some kind of extreme thing to want…
ADAM Not "extreme," but…
BROOM Look, I liked The Emperor's New Groove, I liked —
ADAM The Emperor's New Groove was full of 'tude.
BROOM That's what my point is.
ADAM I see.
BROOM I'm not incapable of enjoying jokes. None of the jokes in this movie made any of us in this room laugh out loud. They were all jokes that we already know. They were being done to the form, which works for kids because they can go, "I know this form! I know this!"
ADAM Eddie wouldn't know those jokes.
BROOM I bet he would. I bet watching this he'd feel like, "I get it! Because the big guy sang a little song!" "He hit him with the frying pan!" The frying pan felt like such a story-doctored thing. "Okay, we're going to put a wacky element in and string it all through the movie, for no reason. How about they all hit each other with frying pans?"
BETH I agree with what you're saying. And then I'm thinking, "well, I just watched 100 minutes, which is a really long movie, without thinking 'man, I can't wait for this to be over,' which is so frequently what I think when I'm watching these." And so how do I reconcile that? I didn't like the attitude but… the movie was pretty good!
BROOM Like I said at the beginning, I'm of two minds and I'm not sure how they're going to work it out. The other mind is: oh, that was fine. It's pretty. At first I thought it looked like Barbie dolls, but then I saw that no, it looks better than that. I don't know how this is all ultimately going to land for me.
ADAM To me this is the most satisfying one since Lilo and Stitch.
BROOM Interesting.
ADAM I mean, that's a pretty low bar, but still.
BETH This is up there for me, too. Not because I connected with anything. I just felt respect for the execution of this story.
BROOM That may be right, that it's the most satisfying one since Lilo and Stitch, which is not inconsistent with all of my reservations about it, nonetheless. Because what else is even in the running? It's better than Treasure Planet.
ADAM It's better than Bolt, it's better than Home on the Range…
BROOM For me it's not too far from Bolt. This was a little better because the story started to feel a little richer toward the end.
ADAM I thought it was distinctly better than Bolt.
BETH I liked Bolt. I think it's better than Bolt but not significantly.
ADAM Well let's see what A.O. Scott had to say.
BROOM Is there anything that we usually talk about that we haven't touched on?
ADAM Sexual orientation? There is no sexual orientation in this movie – well, maybe the big guys all doing the dainty things. But that is such a hackneyed gag that it really has no —
BROOM There you go!
ADAM I mean, it is a hackneyed gag! I'm not suggesting that it's not. That's what I mean by Monkey Island humor.
BROOM Monkey Island is like a stick-puppet show. It's like "we made things move on a computer! We made pixels look like people sort of! So what should we make them say? 'Wah wah wah! Joke! Punchline!'" It's a Punch and Judy show; of course they're hackneyed jokes. Whereas here, it's supposed to be this wonder-world that we lose ourselves in. So my standard is going to be higher. That's what I mean about the fantasy landscape. Enjoying that is like losing myself in wonder. Which is definitely what they wanted me to do during the… paper towel scene, what were those?
BETH Lanterns.
BROOM It looked like a lot of rolls of paper towels. And they basically had me! I was really on the edge of being able to feel awed by that.
BETH I thought that was a lovely scene.
ADAM Yeah. That was a very effective use of the CGI.
BROOM Beth, it's funny to me that you are saying this was so palatable to you. Because you know I'm trying not to think about your thoughts all the time. But when I was thinking, "oh, this is all hateful Broadway stuff," the thought arose, "and you know if you hate it, Beth really hates it. She can't stand Broadway bullshit." But I told myself, "don't even go there. If she's pissy afterwards, fine."
BETH But I surprised you.
[we read the New York Times review]
BROOM I agree the narration was no good. And that lame stuff at the end was just one of a hundred things they could have ended the movie with.
ADAM It's like the ending of When Harry Met Sally. Actually, the movie reminded me as much of anything of Misery. There's a scene at the end where the Kathy Bates character bakes him a cake to celebrate finishing his novel, and it has that same Stockholm syndrome-y sweet/horrifying quality.
BROOM Which is why I am dubious about your answer to me that, "no, they really did love each other in some sense."
ADAM But that's it. If they didn't love each other in some sense, it wouldn't be horrifying. That's a necessary element of it being jarring.
BROOM Well, I think that's why we say "Stockholm syndrome," so that we don't need to call it "love, like the love a parent has for a child in a Disney movie." It's horrifying at the level where even adults don't "go there." So I can't really believe that this movie wanted us to go there and say "that was love, but love also sometimes consists of a witch abusing you." I just don't think that was here.
ADAM Well, kudos to you, Disney, for drawing inspiration from a beautiful Fragonard painting.
BROOM The Fragonard element is, I would say, faint.
ADAM Attenuated. But it is lovely. And they didn't ruin it.
BROOM They didn't ruin Fragonard?
ADAM Or Rapunzel. The end.