directed by Henri-Georges Clouzot
screenplay by Henri-Georges Clouzot and Jérôme Géronimi, with René Masson and Frédéric Grendel
after the novel Celle qui n'était plus by Pierre Boileau and Thomas Narcejac (1952)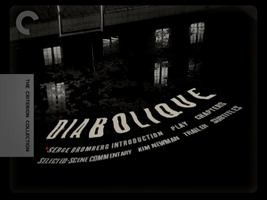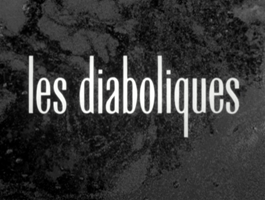 Criterion #35.
The title of course means basically "The Diabolicals" (assuming there to be such a noun). Clouzot stole it from a book by Barbey d'Aurevilly whose title is generally translated as "The She-Devils," which can work for us too. Or just "The Devils." (Google Translate interestingly gives "Evil.") The novel upon which this was based was first published in English as "The Woman Who Was No More," but then after the movie as "The Fiends."
The English title of this movie has always been Diabolique, which is fascinating. A French title has been translated into a "French title" for American consumption, where part of the Frenchiness of the new title is that it is coyly adjectival — which the actual French title isn't. Or perhaps that's just a byproduct of a different logic: English has subsumed "-ique" as "French affect," but not "Les." "Les" would mean you were actually speaking a foreign language. But the title Diabolique is simply très chic — très Frenchique!
Apparently Les diaboliques was so popular on the arthouse circuit in the U.S. that it was subsequently picked up for mainstream distribution, which is obviously a rarity for foreign films. Had it gone to the mainstream first, it seems more likely that the title would have eschewed Frenchness altogether. (Maybe something like "Murder Is For Girls.")
Is there a list of all the foreign films that have had full-scale U.S. distribution? e.g. in the past two decades, Life is Beautiful, Amélie, and The Artist? Etc.? I'd be interested to see such a list but I can't find one online, which surprises me.
Here's what I will venture to say about Diabolique: it is a suspense movie. For about half of it, I thought it was an unusually narrow and pure suspense movie, more like an episode of "Alfred Hitchcock Presents" — pared-down, lacking in the particulars that would make it stand out as a full-fledged movie. But eventually I realized that it seemed that way only because it has been so tremendously influential. It's actually very particular. It's a bit like The Lord of the Rings: if you read it and go "yeah, so it's just another one of these books with magical elves and stuff? Like World of Warcraft or something?" you're reading it historically wrong, and thus aesthetically wrong. I got my head around the real Diabolique by the end. It's obviously very important.
Even though I knew 1) it had been influential, and 2) it was "Hitchcockian," I genuinely didn't know what was going to happen. Is it one of these or one of those? Or one of those? The answer is, it's Diabolique, and once you've seen it you'll know which other movies you've seen have been ripping it off. Many.
That kind of "which plot am I watching?" uncertainty isn't really very different from the "naive original audience" perspective. The important thing is that you don't know. Suspense!
Wanting not to spoil a movie for my readership is at odds with my spiritual goal of writing with myself as audience, so I'm going to break away from this stuff.
* Difference between Clouzot and Hitchcock is the difference in attitude taken toward the gamesmanship, like the difference between the stage personas of two magicians (which alone can make the same trick feel like two fundamentally different kinds of magical phenomena). Hitchcock wants you to notice his control over you. Clouzot sometimes just wants to use it. Being manipulated without a wink can be a more ambiguous experience. This is probably just a question of social style, but I think I side with Hitchcock here. It might be more childish to be constantly winking but some things are meant to be childish. If we're going to find depth in these kinds of stories, it's going to be through their resonant qualities, not through any kind of reality in our experiences of them. As for example Vertigo, a movie that has thematic depth without refraining from operating like a machine. Plot, as I've said, has its own characteristic capacities and tendencies, and these are plot movies we're talking about.
* But the distinction between the two directors is minor. The styles are certainly related. And a big part of the difference in tone may simply be the lack of music in Diabolique, which provides a lot of the deadpan affect (and thus the implied winking) in Hitchcock. See below.
* I watched the first half of this while I had a fever. It fit, but after a point I thought maybe it fit too well and this sort of movie was never meant to have such a bodily power. The second half I watched a little later when I felt somewhat better. "Murder can be fun," as Hitchcock said, but only if you're not dying. The same goes for suspense, and fever is a kind of suspense. Once when I was home sick as a kid and watching The Princess Bride for the Nth time, the scene with the life-sucking torture machine suddenly became overwhelmingly nauseating and I ended up throwing up. Just another tick to put on my new chart that proves that empathy is overrated as a mode of experience.
* Criterion reissued this one with improved everything in 2011. There were plenty of the old one but only one copy of the new version in the library system. I got that one brought across town for me and I think it was well worthwhile. Sound and picture are very good, and I genuinely enjoyed one of the bonus features, an interview/musing by this guy where he cheerfully hits on what felt to me like all the right points about the status of this movie. Interesting to juxtapose his mode of critical commentary with the typical "film scholar" voice in the actual commentary track (which is only 45 minutes long, to an abbreviated version of the movie). She says mostly reasonable and relevant things, but her manner and language are false and sad in all the ways that the nerdy guy's obvious enthusiasm is true and happy. Isn't this distinction I'm making a very simple thing that even "the academy" could find it in itself to respect and honor?
* There's also an "introduction" speech by a guy who wrote a book about Clouzot or something. That has a genuineness to it also but he's less engaging and rides the line between being objectively informative and venturing his own opinions much less comfortably than the guy I liked. Perhaps my distinction of truth and cheer vs. fakery and tension derives from a distinction in how the speaker rates the significance of his or her own thoughts. People who are confident that it's their right to think and talk will not try to pass off their opinions as anything but what they are. People who are less confident will often try to phrase their thoughts in ways that remind them of facts, or slip them in between facts to show that they deserve to be said. Scholarship seems to consist in great part of people using learning and language as a defensive coat of armor for the battlefield rather than as a glorious ceremonial coat of armor for a coronation. If you see what I'm saying.
So for I think the first time since The Lady Vanishes (Hitchcock!) we have a bookend score, with a main title and a finale and no other music. It's by Georges Van Parys, and to my ears at least is very Parisian, post-Honegger. It's the sort of music that seems to want me to imagine what the score looks like. I can imagine it. ("Editions Choudens" it says, so I can even picture the type style.) It probably took him an hour to compose and an hour to orchestrate. If that. I don't know how well it matches this movie (or to what degree a viewer perceives it as actually a part of the movie!) but it hardly matters: it's very bold, unsettling stuff for opening titles and then it goes away. What else is it supposed to contribute?
Actually, let me correct that. When music emerges as we iris to black at the very end, there is a sense that the single big wink of the whole movie is descending. This is what I meant about the difference from Hitchcock and its relationship to the music — only when this music shows up do we hear unambiguously from the voice of the director, of the film itself. We go the whole length of the movie before he shows up to grin this weird "mwah-ha-ha" grin. So is this music what this movie is? I guess so. It's playful in how dreadfully discordant it is. Here's the whole score: Track 35.