R.S. Thomas (1913–2000)
Song at the Year's Turning (1955)
Poetry for Supper (1958)
The Bread of Truth (1963)
H'm (1972)
Laboratories of the Spirit (1975)
Roll 28 was 1575: R.S. Thomas: Poems. This being R.S. Thomas's sole entry on the list.
The latter four of the five collections above were to be had at the local library and were pulled for me from deep, neglected storage. (They seemed to me a sufficient selection, seeing as the collected poems didn't seem to be available anywhere in my vicinity.) I read most of them. Then I chanced across the earliest collection at a bookstore, bought it, read it, realized it clarified the others, decided I needed to start again. But didn't. Then about a year passed (during which I renewed the four collections thirteen times – apparently the library has an unlimited renewal policy, at least for Welsh poetry). Then I read all of them over the course of about a week. Now a few more months have passed. Here we go.
Here's a photograph of R.S. Thomas from the National Portrait Gallery: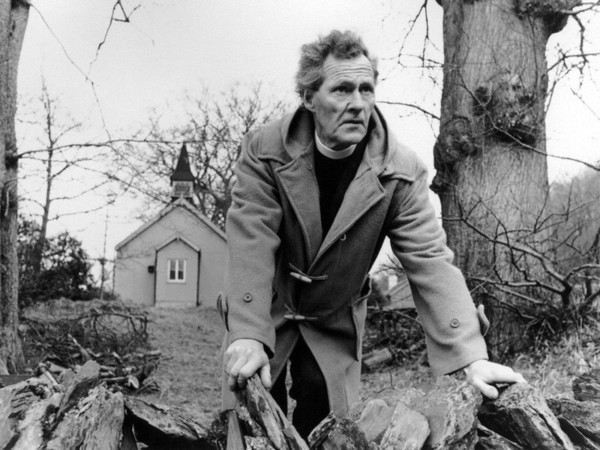 This is a great portrait because it captures the tone and substance of the work exactly. The only essential thing missing is what he's looking at with such apprehension. Though I suppose it's implied. Yes, of course he's looking at the cold Welsh landscape, the raw world and God's silence, but first and most immediately, what he's looking at are his weird rural parishioners.
The earliest work is basically the musings of a country priest who can't help but notice that the flock he's tending is made up of impenetrable, incurious, stunted people, people so ominously unlike him that his soul is troubled. The sequence of poems about the farmer "Iago Prytherch" essentially addresses the same question as American Gothic, but at its full weight: what are such opaque people thinking? Is it not terrifying to consider that they might be thinking nothing at all? Are they closer to the truth than we, or further from it?
(I feel like I should try to make a Western Canon callback to this work on a related theme but sadly, I hardly remember it. I guess there's also a callback to be made to this one but I don't want to.)
Thomas is haunted by the thought that his restless and philosophical mind ("the mind's acid" is a phrase that recurs) might bar him from the real source, the solidity of the man who day after day does the same silent thing, out in a field. But such a man surely is missing out on something. Isn't he? Isn't he?
This seems to me as good a linchpin as any for a spiritual poetry about the meaning of life, which is more or less what I found here.
TRUTH

He was in the fields, when I set out.
He was in the fields, when I came back.
In between, what long hours,
What centuries might have elapsed.
Did he look up? His arm half
Lifted was more to ward off
My foolishness. You will return,
He intimated; the heart's roots
Are here under this black soil
I labour at. A change of wind
Can bring the smooth town to a stop;
The grass whispers beneath the flags;
Every right word on your tongue
Has a green taste. It is the mind
Calling you, eager to paint
Its distances; but the truth's here,
Closer than the world will confess,
In this bare bone of life that I pick.
If you read up on R.S. Thomas, you will quickly learn that there is a Welsh nationalist reading to be had, and that for most scholars – as well as, quite possibly, for the poet himself – the political reading is the primary one. But as you can imagine, that was of little interest to me. Thomas's personal metaphysics are interwoven with the reality of Wales in a way that mine will never be; his politics are (like all politics) an arena for the expression of something else. So I tried to read for that something else. I feel pretty sure he was trying to write for it.
There were, admittedly, a whole series of poems that either tried to use Welsh myth overtly or else were explicitly political in their nationalism. I say "admittedly" because what I'm admitting is that I didn't care about those and didn't make much of an attempt. I felt like Thomas's career-long drift toward greater abstraction and universality vindicated me.
The spiritual bewilderment of confronting a silent farmer, a person who stubbornly insists on remaining an object, an "it" in your field of awareness, is really just a crisis of loneliness. And it is in fact Thomas's "mind's acid" that creates this loneliness, not the opacity of the farmer. And he understands this, in time. In the later collections he cuts out the middleman; the poems become very directly about Man and Nature, God and his Creation, the terrible Machine of modernity, and above all: he himself, the poet. All informed by an expansive loneliness. But a loneliness without vanity.
Vanity I think is the thing I detest most in literature, art, or people, and certainly in poetry. It's a kind of lie, and what are we here for if not honesty? Beauty, I know, but there's no comfort for me in beauty contrived in defiance of truth.
I realize only now that I have never liked the two famous William Carlos Williams miniatures. "So much depends upon" is either all the wrong words, or a phony sentiment. In a poem of sixteen words, they should be the right ones. There is vanity here: why must so much depend on this? Why would we pretend to believe that so much depends on it?
Thomas writes a similar poem but in his, crucially, the phrase is "It is a matter of." British, and without vanity. We can't say what "it" is, only that we feel it to be a matter. It is a something. What is Williams expressing but the same thing in vain, aggrandizing, false terms?
Likewise the plums. "This is just to say" is not in good faith. A real icebox note doesn't need to call itself "this," to name its own humility "this is just." "This" is to do more than just to say – it is to be something, a bit of unacknowledged self-regard. Vanity again.
Thomas is full of arrogance and self-regard, but it is all acknowledged. It is his subject and his burden. He does not derive real satisfaction from it, or believe in getting credit for it. Arrogance without vanity is entirely sympathetic to me; in fact it seems to me the correct and healthy state of mind.
"Arrogance without vanity." Maybe that should go on my tombstone. Or as motto for this site, my living tombstone on the world wide web.
As someone in the process of trying to nurture the spirit by having less mind-acid and less commerce with The Machine, I found the essential problem here quite familiar, and the work entirely admirable and frequently affecting. But I think back to how I felt about The Seventh Seal (and Rilke) and feel something similar once again: this is the art of one who did not know a way out of what he describes. It is the art of problem, not of solution. Even in its acknowledgement of grace, of the unearned that transcends earning, all is still cast in terms of strain, risk, fragility, fatalism.
The first poem I encountered (because someone pasted it into an Amazon review) and perhaps the one that felt most valuable:
THE BRIGHT FIELD

I have seen the sun break through
to illuminate a small field
for a while, and gone my way
and forgotten it. But that was the pearl
of great price, the one field that had
the treasure in it. I realize now
that I must give all that I have
to possess it. Life is not hurrying

on to a receding future, nor hankering after
an imagined past. It is the turning
aside like Moses to the miracle
of the lit bush, to a brightness
that seemed as transitory as your youth
once, but is the eternity that awaits you.
Yes, real wisdom is there. Life is not hurrying on to a receding future, nor hankering after an imagined past. And this past year I have found this poem inspiring, thought its tone correct. But now, having gone a bit deeper into my own process of relief, and also being on the point of returning R.S. to the stacks, I find myself questioning even this poem. The revelation here is presented in a context of desperation and regret: don't get it wrong and pass it by like I keep doing! "I must give all that I have to possess it" is Christian but it is not enlightened even according to the poem itself. Or perhaps it is, but his religious faith and his work ethic are among the things he must give, and he isn't prepared to mean that at all.
Life is not hurrying on to a receding future, nor hankering after an imagined past. The real enlightenment would be for the poet to look up now, to turn aside like Moses not at some future moment of salvation, but now. But no, the poet R.S. must soldier on, ever straining for the answer, seeking the one true field. In his world, hope and fear are two sides of the same honorable coin. Neither joy nor despair have a proper place here; the only thing to do is keep the tightest possible grip on that coin.
Look what happened to this man: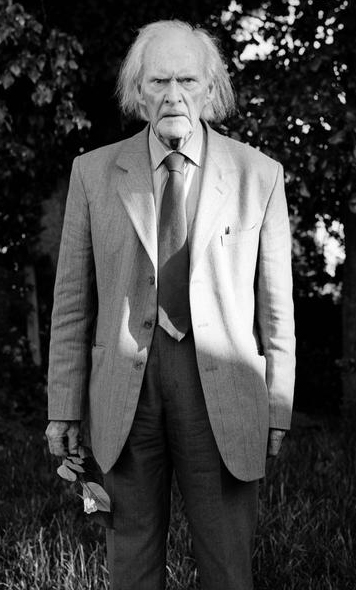 The work is the record of the habits of thought that do this to you.
The gothic tragedy of the work is that it is quite obviously this business of poetizing that is killing him. Like in some Edgar Allan Poe story, it is the narration itself that is haunting the narrator. For God's sake put down the pen!
SELF-PORTRAIT

That resigned look! Here I am,
it says; fifty-nine,
balding, shirking the challenge
of the young girls. Time running out
now, and the soul
unfinished. And the heart knows
this is not the portrait
it posed for. Keep the lips
firm; too many disappointments
have turned the mouth down
at the corners. There is no surgery
can mend those lines; cruelly
the light fingers them and the mind
winces. All that skill,
life, on the carving
of the curved nostril and to no end
but disgust. The hurrying eyes
pause, waiting for an outdistanced
gladness to overtake them.
For good and bad, it is all set-jaw poetry. It is run through and through with an ethos of strain that I am trying to transcend.
I am quoting a lot of it here because, yes, I liked it. I just want to be smart about how I like it. If these years of Western Canon reading have taught me anything, it's that reading can be dangerous.
SONG

I choose white, but with
Red on it, like the snow
In winter with its few
Holly berries and the one

Robin, that is a fire
To warm by and like Christ
Comes to us in his weakness,
But with a sharp song.
He often drops the line breaks exactly where the thought most resists breaking, which I suppose can give a sense of momentum, emphasizing the magnetic pull that spans the gap. But again, even in rhythm, he aestheticizes resistance; even flow is an upstream battle.
To Thomas, even passivity is a form of strain. This one about sums it all up:
PETITION

And I standing in the shade
Have seen it a thousand times
Happen: first theft, then murder;
Rape; the rueful acts
Of the blind hand. I have said
New prayers, or said the old
In a new way. Seeking the poem
In the pain, I have learned
Silence is best, paying for it
With my conscience. I am eyes
Merely, witnessing virtue's
Defeat; seeing the young born
Fair, knowing the cancer
Awaits them. One thing I have asked
Of the disposer of the issues
Of life: that truth should defer
To beauty. It was not granted.
Look at this! The BBC did a 90 minute radio drama with Jonathan Pryce as Thomas in 2009. I'd listen to that if I could find it.
Okay, I don't need to renew these any more.