directed by Rob Reiner
written by Christopher Guest, Michael McKean, Harry Shearer, and Rob Reiner
[though, as Rob Reiner himself says at the beginning of his commentary track: "Really in all fairness it should be 'directed by' the four of us. … It says 'written by' the four of us, but the writing credit should read 'everybody who's in the film,' because they all made up their parts." Later someone says that they wanted to run that credit, but the Writer's Guild nixed it.]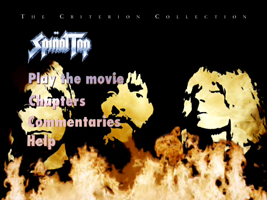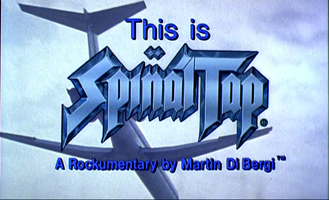 Criterion Collection #12. Yeah, that's right — remember when I was watching these in order, like, 18 months ago? You don't? Well, the important thing is that I remember.
This is Spinal Tap is clearly better and more satisfying than any of Christopher Guest's later directorial efforts in the same vein. While watching this time — I have seen it many times — I figured I'd try to identify why that is. What has it got that they ain't got?
The answer I came up with: this movie is better — both funnier and a more admirable piece of filmmaking — because it takes seriously the premise that it is a documentary, and those later movies don't. The existence of the film is itself legitimately part of the comic conceit here. The presence of Marty DiBergi may not seem all that significant, but it's actually crucial, because even when he is not onscreen, we can still attribute the film's perspective to him, to a character. When you watch a real documentary you can always sense the agenda, or at least the personality and philosophy, of the filmmaker. In Christopher Guest's later movies, he tries as much as possible to eliminate this element, I imagine because he's much more interested in actors than in films. But when an ostensible documentary has no authorial point of view, it becomes much harder to be invested in the nuanced specificity of the moments, which is where so much of the humor is meant to lie, because we can't really believe in the space behind the camera. In Spinal Tap the comedy feels genuinely three-dimensional, extending behind us, around us, and into every aspect of what's going on.
In fact, DiBergi and his camera might constitute the best straight man ever, because unlike most straight men he has a clear and pathetic motivation to take all the nonsense dead seriously – namely, his desperate, film-school-schlubby need to scrounge together a movie he can sell. We know that he is sweating about this project and thus is willing to work with absolutely any material he can get. He can't afford to find any of it absurd.
That the title is the super-lame, old-fashioned, self-serious "This Is Spinal Tap" is itself comic, because we know it's the title chosen by the kind of guy who wears a "USS Coral Sea" cap everywhere. The title card, see above, continues the joke. I don't think there's every been any other "mockumentary" that's half so thoroughly realized as an artifact in itself.
Closely related is the vital contribution of cameraman Peter Smokler (seen here with the concert lighting designer, whose snapshot this is), who gives a pitch-perfect offscreen "performance" as DiBergi's cameraman. He manages to make us believe that the guy holding the camera is really thinking on the fly and that what we are seeing is simply the result of someone scrappily trying to make the most of every situation as it unfolds. In great part he is, in fact, doing exactly that, but he never tips his hand enough to reveal that he's really going for comic beats. He seems always only to be going for the moment, whatever it happens to be. It's real documentary camerawork, as opposed to the tepid caricature of documentary camerawork used by later imitators. In the commentaries, everyone eventually notes in passing that Smokler had good instincts. Which is true but it seems to me like insufficient acknowledgement of the subtle trick he's constantly pulling off. The camera is what really makes this movie feel like something special, like a place worth visiting.
I originally tried to bring up specific counterexamples from Waiting for Guffman while making the above points, but it turned out to be hard to write it that way, because what at first seems to be a matter of degree is actually a difference in kind. In the wake of This is Spinal Tap, a whole new genre has come into existence that actually doesn't make any sense on its own terms, and Christopher Guest's later movies are of this new type. To enumerate the thousands of ways that, say, The Office isn't at all convincing as a documentary is to miss the boat utterly, as any fan of The Office would exasperatedly tell you. And yet at the same time, the premise that it "is" a "documentary" is absolutely essential to its functioning. It's sort of a mimetic split-level. Having your cake and eating it too has become its own set of conventions. When the desired pitch of comedy requires that the audience be brought in close and raw enough to feel the grit of discomfort, the superficial trappings of "documentary" are now institutionalized as a viable shortcut for getting us there. (The very convenient device of solo interviews comes as a bonus.) But that's the full extent of it; none of those movies (or TV shows) are actually the least bit interested in thinking about documentaries per se, and so they bring nothing else about documentaries with them. In a present-day "mockumentary," there is, generally, no filmmaker and no film.
Interestingly, Curb Your Enthusiasm is a close stylistic relative yet manages to do away with the baggage of the "documentary" device. It's improv shot handheld without pretense, and that's that. In Waiting for Guffman, by contrast, the camera is constantly bobbling around absurdly to telegraph handheldness because, since there's no real "movie" in the movie, in they feel obligated to remind us superficially of the "movie" conceit. Spinal Tap has no such layers of conventionalized affectation. It is a fiction, but a single cohesive fiction. Style and content are unified.
This whole issue reminds me a bit of the fact that when sound film was introduced, filmmakers were slow to feel comfortable playing incidental music without identifying a source. We seem to be similarly slow now in getting acclimated to the idea of a non-diegetic handheld camera in improv comedy. John Cassavetes and others were doing that sort of thing in an artsy way decades earlier, so I'm not sure what the problem is. In any case, even the interviews and glances at the camera on The Office are ultimately processed as existential rather than filmic, right? People are always psychically aware of both a sympathetic audience and a humiliating judgmental audience loitering somewhere nearby in social hyperspace; letting the characters glance at each of these occasionally really has nothing to do with camera crews or documentaries. Likewise the solo interview segments tend to read as exactly what they are — strange interludes.
Okay okay, back to Spinal Tap.
Much credit must be given to the editors, Kent Beyda and Kim Secrist, for their excellent balance of the various layers of comedy, and sensitivity to all sorts of nuances. They show up on the commentary and are justly proud of their work. The funniest single beat in the movie, to me, is when Nigel is in the middle of complaining about the size discrepancy between the salami and the bread, and briefly falls silent as he tries to fold the salami around the edges of the bread, as though for just a moment he has become un-self-consciously wrapped up in the problem he is attempting to solve. Watch it closely and you'll see that the moment has been entirely created in editing.
June Chadwick is perfect as the wrong-energy girlfriend and gives a really fine performance, improvising just as fluently as the rest of them in a non-"joking" role, arguably a harder trick to pull off. Ditto Fran Drescher, but that's less noteworthy since we all know she's The Nanny. And ditto Tony Hendra but yick. Why didn't Christopher Guest ever hire June Chadwick again? Why is she teaching Alexander technique instead of acting? Maybe she didn't have range. Or maybe it's because she's married to a top facelift surgeon (seems like she's gotten a couple of freebies, too) and doesn't need that acting career anymore.
It goes without saying, I think, that: Michael McKean seems like the most versatile wit and the most astute about managing the fiction; Christopher Guest gets all the funniest and most memorable moments because he's willing to descend into such depths of self-involvement, but he also seems genuinely, possibly unpleasantly self-involved; and Harry Shearer seems to be working in a nerdier, less subtle tradition than the others — his contributions all strike me as a little too obviously "the line he just came up with" — but that kind of mild clunkiness suits the Ringo vibe.
This Criterion edition is notoriously rare and very out of print for many years. It is much coveted for the material exclusive to it: actual behind-the-scenes commentaries by cast and crew (where the currently available version only has an in-character joke commentary track), the 20-minute demo short made to pitch the film, and a generous selection of high-quality cut material, a good chunk of which does not appear in the similarly generous selection on the current DVD. This movie is an unusual case in that several of the "deleted scenes" seem to be considered, by those that have seen them, to be a very real part of the movie. The sequence where Bruno Kirby gets stoned and sings "All The Way," and the scene where Artie Fufkin smashes an egg on his head feel like truly essential pendants. I think what I'm responding to here is again related to the uniquely inclusive quality of this movie's make-believe. In most movies, deleted scenes are often things that, as it turns out, didn't actually happen in the movie's world. Not so here! Whether or not they were in the final cut of film, those are things that actually occurred on Spinal Tap's Smell the Glove tour! They are historically every bit as real as the rest of the movie.
But hey, enough of my yakkin'!
Here's the track for your Criterion soundtrack compilation: Tonight I'm Gonna Rock You Tonight, as heard at the start of the movie when the band is introduced, which is as close as this movie gets to a Main Title cue. Soundtrack is of course available.
Pointlessly full disclosure: my home-burned copy of the otherwise-totally-unobtainable Criterion edition is corrupted at exactly and only the spot corresponding to this snippet of music, so the above track was, by necessity, ripped from the MGM DVD instead, which I own legitimately – thus breaking my made-up rules for this cumulative soundtrack thing I'm doing. It unfortunately can be distinguished from the Criterion edition that it purports to be, in that it has crisper sound. Ah well!