(Joseph) Maurice Ravel (1875-1937)
Concerto pour la main gauche, en ré majeur
composed: 1929-30 (ages 54-55)
first performance: Vienna, January 5, 1932 (Paul Wittgenstein, Vienna Symphony Orchestra/Robert Heger)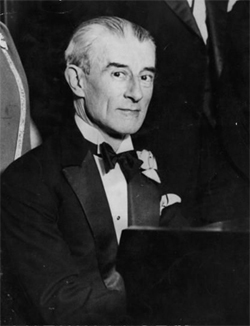 Not sure of the year here – might be 1928. Anyway, it's around the right time. And just look at him! How could I pass up this photo?
535.
There are those who criticize Ravel for his fastidiousness, who accuse him of being cold and artificial because of his craftsmanship – surely the same people who feel that the Coen Brothers' movies are too attentive to craft to be heartfelt.
But we must give the dapper, sexless collector of automata his due.
Those who submit the criticism that hyper-rigorous craftsmanship is incompatible with sincere sentiment are those who listen for craft. A child is incapable of thinking this thing, about Ravel. A naive listener hears only what music conveys, not how it conveys it. Watching a movie while thinking about moviemaking opens you to pitfalls that do not lie in wait for the viewer who watches only for the story.
I am, at this stage of my life, capable of both modes of observation. But we must remind ourselves that it is not the artist's fault if we are thinking about his workmanship. It should be a matter of principle that exquisiteness of craftsmanship is never a fault, no matter how gleaming to the eye that seeks it out. That eye must retrain itself not to be such an aficionado, and to be a mere enthusiast for a change.
I wrote a essay in metaphor on this theme, once, before the broomlet days, but I don't know where it is now. The gist was that appreciating art analytically, with attention to the workings, is like the mechanical nightingale. One is tempted into replacing the real live nightingale of just enjoying things directly with the intricacies of the mechanical one, but, like the emperor, one eventually comes to need the original, which is both more commonplace and more mysterious.
I wobble back and forth over this line when I listen to Ravel. Sometimes I can picture the man smoothly bringing a cigarette to his mouth, sitting in his immaculate study with his pant legs crisply creased; but sometimes I can picture flowers in bloom, waterfalls, and so forth. My favorite subjects to picture while listening to Ravel are fish in aquariums, or trains traveling through fields, or snow seen through windows; i.e. the beauty of the natural world observed from within the comforts of civilization. The quintessential European worldview, yes? Mr. Ravel seems to have had equal affection for both the fish and the aquarium, in his music. I can relate to that and don't see any reason to act superior to it. You should be so lucky as to have so fine an aquarium.
Someone who sits around all day perfecting his handwriting, but has nothing to write, is a nerd. Ravel was manifestly not a nerd. He happened to have excellent penmanship. Because his music is so thoroughly good, it provides us an opportunity to relish fine penmanship. And I relish it!
I don't know what story we're supposed to hear in this concerto – something about war? man's struggle? is the pathos of Paul Wittgenstein's one-handedness a subtext to the music? Thought: perhaps Prokofiev's utter disregard for the pathetic-heroic implications of a one-handed concerto was what turned Wittgenstein off to his piece, which is actually quite excellent on its own terms. But as I say: I don't know what story we're supposed to hear in the Ravel, but I hear something bigger and better than just the spirit of man rising above war (or amputation).
The beginning to me is like some primordial wash, the same birth-out-of-the-misty-void that you get at the beginning of Beethoven's Ninth or Das Rheingold or whatever else; the theme that grows out of it is imposing and impersonal. Most of the pianist's material is a related spirit – he doesn't sound to me like a protagonist, just a different mirror on the same impersonality. For the majority of the piece, we sit back and watch as grand and mysterious things happen; we are looking out the window at grandeur, at canyons and cliffs and nature booming – and in the middle section, at the dance of things in all its kooky ominous strangeness. The only real contrast in perspective comes with the timid, fragile second theme in the sad-fairy-tale mode. We are still observers but now we seem to have turned inward, to something private; the child within. The theme is almost too delicate to sustain itself in the face of the other material when it first appears. In the cadenza at the very end, the climax and heart of the piece arrives when the childlike theme is finally given the space to breathe and show itself… but then it must fall gracefully back below the waves for good, because nature is undeniable; the canyons and cliffs rise up again, and for the first time reach a triumphant chord affirming that, yes, the impersonal world out the window is the way things really are. We go out on chords that I can't hear as anything other than crashing waves; the camera has been thrust through the window, out of the intimate human space forever.
Whoa.
Yes, I really do hear that, but having put it into words, it seems awfully purple. But that's the joy of music, isn't it, that it allows us to experience feelings inwardly that are unacceptably gauche in the outer world.* The internet being a queasy medium between those.
If Ravel's worldview is the world seen from a cozy train – which is absolutely what I hear in the other, two-hand piano concerto – this piece, to me, is about accepting that eventually, one way or another, we have to get off the train. I can't right now think of another work of his that so baldly announces what seems to frighten him, though I'm not thinking very hard. La Valse is also about luxury and nostalgia coming to a bitter end, but it's more of a sardonic puppet show; Maurice is not implicating himself. But here in this piece I feel like he's taken the little Maurice from L'Enfant et les sortilèges and, instead of returning him to his mother's sweet embrace at the end, tells him that his childhood is now over and life is short, and leaves him looking out at the endless sea.
If someone shows me a letter now in which Ravel writes, "the left-hand concerto depicts the absurdity of war and the triumph of the human spirit over adversity," I'll say, "oh." Even so, I like my way a lot better.
Probably it depicts nothing. But the philosophical shape suggested above is what moves me, even as I drum my fingers along to the catchy part.
Though I said it sideways earlier, I'll just say it here explicitly: Ravel's craftsmanship is second to none. There's not a bar of this piece that you can't savor in its deliciousness.
Picks from the book:
Cortot, Paris Conservatory Orchestra, Munch: Pearl PEA 9491
Paik, Stuttgart Radio Symphony Orchestra, Bertini: Orfeo 013821
Fleisher, Boston Symphony Orchestra, Ozawa: Sony Classical SK 47188
Didn't get those. My favorite recording of this piece is still Krystian Zimerman with The Cleveland Orchestra / Pierre Boulez, 1996. I've had it since it first came out, listened to it many times, and can't help but miss its restraint and polish when I listen to any other recording. I did find plenty of moments to enjoy in each of the others I heard, though: Robert Casadesus, Philadelphia Orchestra / Eugene Ormandy, 1947; Leon Fleisher, Baltimore Symphony / Sergiu Comissiona, 1982; Michel Béroff, London Symphony Orchestra / Claudio Abbado, 1987; Samson François, Orchestre de la Societé des Concerts du Conservatoire / André Cluytens, 1959. And a live performance by Fleisher on youtube.
The sheet music site finally came back to life after a long hiatus of self-pity, and both a two-piano reduction and the full score are available here, or at least will be when they get around to it. Legal for download… as long as you don't live in the USA.

* Get it? Gauche? Unintentional but I noticed it on my read-through. Yes, I do read these. Usually.