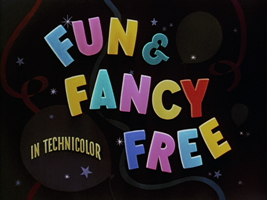 BETH That was not my favorite. That sucked, okay?
ADAM Yeah. That was pretty bad.
BETH The first half was truly bad. It wasn't at all entertaining.
ADAM Do you want to talk about them in order?
BETH Yes.
ADAM First let's talk about the framing device.
BETH Okay.
ADAM I thought it was lazy of them to resurrect Jiminy Cricket and Cleo for such a shoddy purpose.
BROOM They resurrected more than just those two. There were all kinds of callbacks.
ADAM The crows.
BETH It's like they weren't even trying, like they weren't even thinking.
BROOM A whole lot of it was stuff they had done before that they were doing again in a calculated way.
ADAM It was terrible. It was an uneven pastiche of all sorts of crazy things.
BROOM It was thrown together in the most ridiculous way.
ADAM There was no thought whatsoever apparent in the construction of the stories.
BETH But it was after the war. It's not like they have an excuse for being that lazy.
BROOM I think the studio was shaken pretty seriously by the war.
BETH Okay, but it was two years after the war. I don't know. I don't know anything about what it was like. But – creatively they were shaken? Could they not have come up with a story? The story of that first section was… not a story!
BROOM It takes several years for each of these to be in production. I don't completely know what the history was, but I read somewhere that both "Bongo" and "Mickey and the Beanstalk" were things they'd been working on for a while, and then they just decided, "okay, we're putting them together."
ADAM I thought the story of "Bongo" was okay, but it was just a little derivative of Babbitt. You know?
BROOM I didn't think it was "okay" at all.
ADAM I was joking.
BROOM I know.
ADAM It was like, here's this circus plotline, and then here's this unfit-for-the-wilderness plotline, and then here's this… bears slapping plotline. Also, as a paean to spousal abuse, it was irresponsible.
BETH That was one of the worst Disney things I've ever seen.
BROOM What I was thinking while we were watching the second half was: "This isn't very good either – but it's better than the first half – but it's not very good… but really, what it's like is an ordinary Disney cartoon." If you watch one of those shorts where Donald chases a bear through Yellowstone Park, or bees try to eat him…
ADAM Or Goofy and the volcano.
BROOM I don't know if I've seen one with Goofy and a volcano.
ADAM I've told you about this one in the past. Goofy goes on a Hawaiian vacation and ends up getting sacrificed to the Polynesian god Pele.
BROOM That really happens?
ADAM Yes.
BROOM Anyway, you watch those and you think, "Yup, that was another one." You don't feel offended, like, "Oh my god, Disney, what happened to your standards?" They're just shorts, and a lot of them are stupid. The only thing that's distinctive about these is that they were packaged as a feature-length movie and included in the feature canon. But it's just some shorts, of not very high quality. It's not that shocking.
BETH But it is offensive that it was packaged as a movie, because that means it should have been better. They should have known that. They had their own standards that they had already met and defined. What happened?
ADAM Let's play devil's advocate for a second. There were some cute things in "Bongo."
BROOM That's the harder one to redeem, I think.
ADAM The second one is easy enough to redeem because it's just a story that already exists. With creepy child-molestation interludes.
BROOM The value of any of these is not going to be whether the story is interesting, but I do think it was a particular weakness of "Bongo" that the story was nothing. Just nothing. I thought that what happened to him in the forest was going to be somehow connected to his past. I thought he was going to have to go back to the circus – or go to a better circus – because he would have to accept what he was. But no. It was just about getting a girlfriend. Even if he's a sissified city bear, he can still get up a tree; other animals will push him up. There's just barely anything there.
ADAM What was the title of the slapping song?
BROOM "Say it With a Slap." Bears say it with a slap.
BETH "Say it With a Slap"!
BROOM And did you hear the lyric that was like, "When a whippoorwill's in love, he can whip her?" [ed. online sources give the lexically doubtful "he can whipper."] I thought the best thing in "Bongo" was at the beginning, when he was dreaming and the voice was singing, "Bongo, come out!…"
BETH When he saw a vision of himself, translucent and large, sliding down mountainsides. That was okay.
ADAM It was sort of like a picaresque.
BROOM That's what was a callback: all of that first sequence was stuff from Dumbo. The circus train, and the tent. I liked when the tent got sucked in and out of the train; that was cute.
BETH Well, I give it all a C-minus.
BROOM The pacing was just terrible. Another major problem with it was that Bongo was not well drawn. He didn't look good.
BETH Neither did his girlfriend.
ADAM It was lucky she had that bow on, because it was hard for me to tell apart the male and female bears.
BROOM And the bad-guy bear was just so disappointing in every way.
ADAM Again: what did Sinclair Lewis have to do with this story?
BROOM I believe he wrote it as a story for a magazine or something. Here's something I wanted to say: I watched the opening titles of this movie on Youtube last week…
ADAM Cheater.
BROOM I did cheat. And I watched a little of the opening song…
BETH I liked the titles.
BROOM Beth liked the titles because they looked like a party.
BETH That was the only thing that looked like a real party in this movie.
ADAM Not the party with Miss Luana and Edgar Bergen and some creepy fey clowns.
BETH That was no party.
BROOM We'll talk about the party in a second – I just want to say one thing, which is that I watched a little of Jiminy Cricket's song about being fancy free [ed.: "I'm a Happy-Go-Lucky Fellow"] – which sequence I didn't mind – anyway, when he stands on the newspaper to show us why it's important to enjoy ourselves, and the headline on the newspaper is "Catastrophe Seen As Crisis Looms!!" – I saw that, and thought, "that's somehow familiar to me." So I googled it, and found where I had seen it before: in The Incredibles, that's a newspaper headline. Which must be a reference to this. And no one on the internet had made the connection.
BETH You're going to be the first one!
BROOM I'm speaking it so I can type it!
BETH Hey, that's cool!
BROOM That's Disney nerds working at Pixar.
[ed.: This needs further comment. I just now tried to find the visual of the headline in The Incredibles but couldn't – it's possibly hidden in there, too small to be seen in Youtube, but in that case it's not what I'm remembering, since I originally saw it on a tiny airplane screen. However, Brad Bird apparently used "Disaster Seen as Catastrophe Looms" prominently in The Iron Giant (so maybe that's what I'm remembering), in relation to which it has been pointed out that the headline is taken from a newspaper in Lady and the Tramp. In this forum posting someone reports that Bird was unaware, when told, that a similar headline is also in the earlier Fun and Fancy Free; he only knew it from Lady and the Tramp. Anyway, what this adds up to is that people have in fact noticed this before.]
ADAM Can we talk about the party?
BROOM Okay, let's talk about the party, which is the most interesting thing about the movie.
BETH What is it?
ADAM Just as in The Three Caballeros, the terrible shock of seeing live-action people is almost physically upsetting.
BETH It was! Because it went from a cartoon of the house to the real house.
BROOM Part of what was scary about it…
BETH What was scary was that you weren't expecting those puppets!
ADAM You expect to see her body in a closet twenty minutes later.
BROOM She's alone with Edgar Bergen, who even without the puppets doesn't seem like he would be nice. He's wearing a bathrobe – he's dressed like Hugh Hefner…
BETH And the craziest party hat ever.
BROOM Yeah, like a bag on his head. They're alone in a house, dimly lit…
BETH It's an ugly, awful house.
BROOM It's not even like he threw a party for her; it's as though she was tricked into going to a so-called "party" by that invitation that he sent to her cartoon house across the way. And there she is, listening to him cheerfully.
BETH It's so awful.
ADAM I imagine her realizing with a shock of horror, "Charlie and Mortimer aren't people!"
BROOM Like Ten Little Indians, where they're isolated and one of them must be the killer, and the puppets would fall dead and she would realize that the only one who could have been doing it was Edgar Bergen. Anyway, the setup is creepy, but what's also creepy is that you know the house is surrounded by animation. It's so claustrophobic; it's like being in a submarine. There's nowhere they can go.
ADAM Charlie McCarthy is an asshole. I had never seen him before. What a…
BROOM …wiseacre?
ADAM …like, a little… I don't know, I was going to call him "a little fag," but that's not appropriate. And he's gotta be all meta all the time, and keep interrupting the story. Which is a weird choice also. What is that movie that everyone loved where the old man is telling the story about the guy with the six fingers –
BROOM and BETH The Princess Bride?
ADAM Right. Why do they keep interrupting that? It was just like that. Well, less dramatic.
BROOM You were annoyed with The Princess Bride by the fact that there were interruptions?
BETH How could you be annoyed at that?
ADAM I just think it's a weird meta choice. You're quaking – if you are – that Mickey is in danger, and then Charlie McCarthy's asshole little voice comes wafting through the air.
BROOM In defense of The Princess Bride, I think there it was a smart choice, because it made the fairy tale be meta in itself. That's the premise of the original book, that's it's about what we make of fairy tales, and intentionally is about indulging in tropes recognized as tropes. Whereas here, they made a short, and then their scheme for fitting it in to the feature length was to have it narrated by a celebrity! "How about Edgar Bergen? And Charlie McCarthy will make wisecracks?" And they just put that on top of it. Seemed like the animation had been done independent of them. Well, except for the red barn, I don't know about that. But apparently somehow they were able to de-Charlie-McCarthy it for later releases.
ADAM How weird that they never even knew Jiminy Cricket was there.
BROOM That is a little weird. He was purely a voyeur. And that's also weird: if they're going to sandwich these two things together that have nothing to do with each other, you'd think they'd have made the frame have something to do… with each other.
ADAM At least in The Three Caballeros, it was like, "Donald's opening presents. Now he's opening another present." Here it was like, "First he finds a record in her deserted room, and then he goes to a party with her." It was just really shoddy.
BROOM I found more atmosphere to enjoy and be creeped-out by in the frames than I did in the actual stories. But I will say that my favorite part of the whole movie was the vine growing in "Mickey and the Beanstalk," the ballet of the vine growing and them flipping around. It was like in "Clock Cleaners" where they keep almost falling off the building. And the vine was really nicely done. There were also a couple of special effects in this movie that were new. Like when they showed the record coming out of its sleeve and the real printed label moved with it.
BETH That was nice.
ADAM It reminded me of the technique in "Bloom County" where a realistic photograph of a celebrity is pasted into the drawing.
BROOM It's harder in animation, because they made it move. When the record spun around, the shape changed with it. It was very well done. And something else was similar, just before that. I forget what [ed.: the newspaper].
ADAM So who would Dinah Shore and Edgar Bergen be equivalent to today?
BROOM Pretty big people!
ADAM But it would be, like, weird people, right?
BROOM It would be like, "hey, it's… Mariah Carey and Jack Black!"
BETH It wouldn't be Jack Black; it might be Mariah Carey.
BROOM Jack Black is too big? Edgar Bergen was pretty big.
BETH He's just not quite right.
BROOM There are no ventriloquists these days.
ADAM David Blaine.
BROOM He would do a terrible job.
BETH Fred Willard.
ADAM Edgar Bergen was a novelty act.
BROOM But back then, doing a novelty act wasn't itself that novel. Today it would be a throwback. Then he was just a celebrity who happened to do ventriloquism. Maybe it would be Candice Bergen!
ADAM He's not a very good ventriloquist.
BROOM He's terrible!
BETH They shouldn't even be showing him.
BROOM It's remarkable that he was so successful. He was a bad ventriloquist, his jokes weren't that funny – that's assuming that he had some influence on the script. Which didn't seem very Disney-like, so I assume he did.
ADAM He didn't have anything to do with the script, but he wrote his own wisecracks, obviously.
BROOM That's what I mean: the script of the wisecracks.
ADAM "It's a dragonfly!" "Flyin' in the front, and draggin' in the rear!"
BROOM That was a great one. But worst of all – he's not endearing or appealing or anything. He brought the maximum possible creepiness to that party.
BETH It wasn't a party!
BROOM All right, I'm just going to face it: it wasn't a party. Is there anything else to say about this?
BETH No! It sucked, the whole thing sucked. I hope I never have to watch it again and I'm really glad you didn't buy it.
BROOM I told you guys this was going to be the worst one. And I believe that's the case.
BETH Okay, I hope it really was.
ADAM Is it really worse than the preceding one?
BETH Yes, it was.
BROOM We all enjoyed Make Mine Music better than this.
BETH A lot of bad shorter pieces are better than two long really bad pieces.
BROOM The second half of this was not "really bad," but we had been hurt by that point. When they ate the translucent slices of bread and a sliver of a bean…
BETH Yeah, that was kinda cool.
ADAM And when Donald freaks out.
BROOM When Donald got murderously crazy, that was fun.
BETH That was my favorite thing in the whole movie.
ADAM I love Donald.
BROOM It was also cathartic that after all of this "oh my god we're watching Bongo" and then Edgar Bergen, Donald shouts "SHUT UP! SHUT UP! I CAN'T TAKE IT ANYMORE!"
ADAM It was also cathartic to see Donald, Mickey, and Goofy after all these off-brand characters.
BROOM That was the flavor of this whole movie: "Let's just get out the stuff that we have, and use it, and put something in the theaters." There's also a feeling of nostalgic sadness saying goodbye to them, because we're not gonna be seeing them again in this project.
BETH But the audience did not know that.
ADAM Is that true, we never again see Donald, Mickey, and Goofy?
BROOM In the features.
ADAM What about Fantasia 2000?
BROOM We will see Donald in it.
BETH And Mickey, right?
BROOM And they reprise the Mickey portion from the original Fantasia but it's clearly old footage. Is Mickey in the interstitial stuff? Does he say "thanks, Mr. Levine!"?
BETH I thought he was.
BROOM I don't think we see Mickey again; I don't think he's in any other movies. I mean, he might make an appearance as, like, a Mickey doll on someone's desk in one of the nouveau-Disney movies, but I don't think he'll be squeaking at us ever again.
ADAM Well, that is sad.
BETH But we as 1947 moviegoers were not aware that that would be our last time.
ADAM That's often how life is.
BETH And it's sad that that was it, I think.
BROOM It's not exactly sad, though, because the reason it's going to be that way is that they're going to hold themselves to a higher standard for features from now on.
BETH Yes, that is good.
BROOM Well, not from now on, from two-movies-from-now on.
[Here we read the New York Times review, linked below.]
ADAM Oh, Bosley.
BROOM Too positive for you guys.
ADAM Well… maybe he didn't know that they would ever return to form.
BROOM I thought his affection for "Bongo" was too strong by any standards, historical or otherwise.
ADAM It is true that "Bongo" featured that ridiculous scene with the bear cupids.
BROOM That was the high point of "Bongo"; I was wrong about it being when the spirit called to him.
BETH It was the hearts exploding.
BROOM For me it was the other stuff in that sequence, it was, like, a little trap door opening in a cloud.
ADAM And a spout of water coming out.
BETH Yeah, that was crazy and fun. That was fancy free.
BROOM And that those little bear cupids were idiot bears, that they had really goofy faces with little pinpoint eyes. And that they dropped snow on our heroes until they became puffy white teddy bears for a second. As though they weren't already teddy bears. Beth, during the watching of that, you said that it looked like an attempt to be like a Warner Brothers cartoon. I think that bears saying again. Say it.
BETH Okay. I thought they were definitely, with that cartoon, inspired by Warner Brothers, but, as I said at the time, they didn't know how to do it. It wasn't as funny, it wasn't as slick, and it just looked like an imitation to me.
ADAM I agree. In conclusion, Mary, I don't think even you will enjoy Fun and Fancy Free.
BETH Do not watch this!
BROOM I don't think that's the case; this isn't very good, but Mary has a place in her heart for second-rate thirties cartoons. I don't know about second-rate forties cartoons, though.
BETH Okay. Everyone else: avoid Fun and Fancy Free.
BROOM You guys are good sports and I'm glad you're still with me in this.
BETH You owe me five dollars.