written by Eliot Stannard
after the novel by Hall Caine (1895)
directed by Alfred Hitchcock
Another one on the subway. Hitchcock's last silent.
The Ring felt foward-looking and bold in some ways; less so The Manxman, which was pretty much just a typical weepy melodrama for the Mrs. Zero crowd. Both are "two guys one girl" love triangle movies – and in both movies, one of the two guys is played by Carl Brisson – but The Manxman is much soapier and stagier. Odd in fact to see Mr. Brisson's acting style seemingly regress here in terms of cornball emoting. Though I guess I'm projecting a historical bias in seeing naturalism as progress. His makeup, in contrast to his performance, is actually more naturalistic in this later movie. In The Ring, Brisson has been more touched up with lipstick and eyeliner than his rival; in The Manxman it's the other way around. I tried to figure out what the "lipstick and eyeliner" look was supposed to connote back then, character-wise, but couldn't. In both movies, Brisson is the younger and more naive of the two men. In The Ring our sympathies are pretty much entirely with him; in The Manxman they are more divided – all the better to jerk your tears with! So anyway, I don't know what 20s audiences saw in that look, but I'll tell you what I see: a guy wearing lipstick and eyeliner.
The cinematography is very prettily done for what it is, especially when it gets at a landscape. In both movies, Hitchcock creates a few striking setups with very small figures in a large space. On reflection, I guess that kind of image recurs in his famous movies too, but here, in silent black and white, it had greater impact. There's really only one showy trick: a dissolve that turns the ocean into ink in an inkwell. You can only pull that one off in black and white!
Rather than summarize the plot I will simply offer a single screenshot and leave the rest as an exercise for the reader: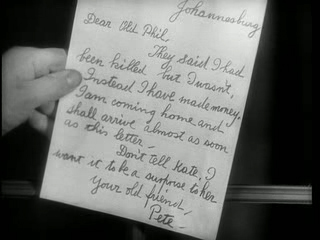 I was interested to note how much dialogue is left up to lip-reading and deduction, in both The Ring and The Manxman. Intertitles (and stuff like the above) are used extremely sparingly. I approve; title cards just make silents seem like deaf talkies. Solutions that do without them are more elegant. But doing without titles requires more concentration, and flatters the intelligence.
I'll tell you one word in particular that never appears in this movie: "Manxman." I kept waiting to find out what it meant and then the movie was over. So I looked it up online. It just means someone from the Isle of Man. Oh. Now I'm trying to figure out which of the two men was the titular Manxman. Not clear; might have to read the novel to find out. This is not going to happen.
The attached piano score on this DVD, presumably again by Xavier Berthelot, was much better than the one for The Ring. The slower pace and broader emotions here are an easier assignment, but he also just seemed more in tune with what was going on.
The movie was a little half-hearted in some ways, but markedly enthusiastic about giving us close-ups of the pretty girl. She was cute, and if I know anything about Hitchcock, that may well have been the whole point of the movie. Is Anny Ondra (= Ondráková]) the first "Hitchcock blonde"? Maybe, but I'm not sure that's a particularly interesting distinction. Somewhat more interesting is that she later married Max Schmeling and hung out with Hitler, making Eva Braun jealous. Here are some photo cards for your private albums, kids.
You know, a few days having passed, the movie seems a little more enjoyable in retrospect. It was at least a schlock tragedy rather than a mere schlock romance, and within the bounds of a dated formula, it had its own kind of dignity. Or maybe it's just that watching it on the subway made it seem like my own private friend and I feel loyal to it as a result.