directed by Andrew Adamson
screenplay by Andrew Adamson, Ann Peacock, Christopher Markus and Stephen McFeely
after the novel by C.S. Lewis (1950)
My self-assignment here has been to talk about every book and movie in the order that I experience them, but I'm going to make an exception and talk about this one right away, even though I have still to talk about The Haunting (old), House of Wax (new), Harry Potter and the Chamber of Secrets (book), The Squid and the Whale, and Rosemary's Baby (movie). But this one's jumping the queue because I have the opportunity, here, to be one of the first people anywhere to write up a review/response to this thing. Not counting those aint-it-cool-news.com types. Yeah, one of them already saw it, of course.
But let me emphasize that this was an extremely advance screening! The aint-it-cool dude reported that his screening, last Saturday, was announced as the first public screening, and I know that the child actors from the movie didn't see it until Monday. I saw it on Thursday, in a really enormous theater with only a few people in it, many of them holding scripts. It won't be released for another three weeks. Pretty exclusive stuff, right??? I want to thank all those who made this possible. Thanks, Jon.*
That said, I found the movie intensely unpleasant. Really, really bad. That's my review. You heard it here first!
There are two principal problems: first, with the material, and second, with the production itself. Or really, there was one problem, which was that the problems with the material and with the production amplified each other. The mismatch between style and content was, to me, near-nauseating.
There are gonna be three types of audience for this movie – 1. People who love the book and know it backward and forward. 2. People who read the book when they were in fourth grade and don't remember it too well – that's me! – and 3. People who have never read the book. Then for each of those there are the subcategories, a and b: people who are pleased by the "Christian content" and people who are not. Mark me down as "put off."
When I was a kid, I only read the first two books in the series, I believe, or maybe the first three. Whatever I read, it was with rapidly diminishing interest. I remember liking the setup of the first book: when you pushed past the fur coats in the magical wardrobe, you found yourself in a snowy, mysterious forest where a lamppost was lit. But the fun of that, you'd think, would be the contrast between fantasy-land and life, or the excitement of this portal between them. Or, in the Alice in Wonderland vein, just the sheer craziness of what could happen in that fantasy-land. Well, after a few chapters of playing the fun correctly, the book veers off in an epic direction that was a complete disappointment to me in fourth grade. The kids start loving – I mean, really loving – this heavenly magical lion, and they get all excited about being kings and queens and fighting in an army of mythical creatures… By the end, they have forgotten all about the wardrobe and even about their real lives. I only had room in my heart for one exposition per book, at that age; it was unthinkable to me that I should care about what happened within Narnia in and of itself. And I didn't understand why the kids in the story did, either. And how dare they forget their parents and love a lion instead – a fairly aloof one, at that. It was almost nightmarish.
Well, now, having found out a bit more about C.S. Lewis and these books, now I know why the kids loved a lion instead of their parents, and I also know why I didn't understand it at the time – because that lion is an example of a type that did not figure in any of my other childhood reading, though it certainly does for many other children. He is a Savior, with a capital C, and their love for him is religious love. Perhaps some will think that I am only revealing my own degraded secularity here… but I for one find depictions of this emotion, religious love, upsetting. It's especially upsetting in this Narnian form, when it's not depicted in the context of religion, but just as a way of relating to, say, a lion. It's very hard for me to see it as a heartwarming or stirring thing. It's creepy. Because religious love is never reciprocal; it is not like love for a person who might well love you back in the same way. Neither is it a rational, justified love for something inherently admirable. It's the love of cult members for their cult leader, it's an affiliation masquerading as an emotion. It's obligation so overwhelming that it can't help but feel like it must be related to love.
I'm not about to go into whether or not this sort of thing is "good" in the context of religion, but certainly I've been brought up to think that it has its place there; in any other context, it sets off alarm bells. Who is this creep asking for pledges of undying devotion? How dare he conscript these gullible kids to fight in his army?
When a bedraggled, wild-eyed Father Christmas showed up and HO HO HO gave the kids marvelous, wondrous weapons so that they could go to war, I couldn't help but feel that I was watching some kind of sick, shameless recruiting film. Similar feelings when the evil wolves, taunting the eldest boy, tell him that they aren't afraid of his sword because they know he doesn't have it in him, that it's smarter to listen to them rather than just kill them… and then, when he does the right thing and kills one (woo-hoo!), the holy lion tells him solemnly to clean his bloody sword in the earth, which he does while the music swells.** Yes! Feel the power of Aslan, dude! All the kids eventually get to kill fairyland creatures – that, says Mr. Lewis, is a real coming of age, of real moral importance.
This is all made much much worse by the fact that it walks and quacks like all the most excessive Hollywood schlock, maxed-out on CGI. The lion to whom these poor kids pledge their eternal souls (more or less) isn't a real lion, or a puppet, or a man in a suit – it's just another projection of that slick, shimmering ectoplasm that wolfs down entire movies these days. It's not just that CGI looks fake and flat – it's that it all clearly emanates from the same dead, digital no-man's-land. Yoda wasn't actually in the Star Wars prequels – instead, the CGI blob that ate the movies just formed one of its many tendrils into a puppet that looked like him. In the same way, part of me didn't feel like there was any real Aslan in Narnia – there was just a lot of cartoon stuff. All the worse, then, that these kids wept over it and put their lives on the line for it.
All in all, the movie looked, sounded and felt exactly like one of those commercials for the Marines, wherein young men battle monsters and work their way through ridiculous CG landscapes in order to get a military uniform zapped on to them by wicked-awesome lightning. Videogame trash aesthetics in the service of dead-serious propaganda. It's easy to say that Lewis is selling Christ's salvation here; but from the movie, at least, it seems like he's selling more than that – a moral mishmash of everything that to him seemed good, human, British, and necessary. Including going into battle with shiny swords. Seems like a classic case of confusing/conflating nostalgia with ethics. A dangerous fallacy and a common one – is there a name for it?
I was complaining about certain unsavory aspects of the story (Aslan is killed in a pagan blood-altar ceremony?? How did I miss that as a kid?) to a friend who responded by sending me a quote from a recent article; the writer pointed out that kids are generally oblivious to moral lessons in their literature and gave the example that C.S. obviously wanted kids to recognize Edmund's wickedness in themselves – but kids never do. It's a good point; that kind of presumptuous moralizing is so offensive that a kid can't even conceive of it. So what do kids get out of these books? Atmosphere, mystery, that sort of thing. The warm British-y stuff that's left over underneath the epic. I might have been annoyed with the weird misuse of those elements, when I was a kid, but I did recognize that atmosphere as worthwhile and fun.
Which is why this movie is so particularly inexcusably bad – because it absolutely gets the atmosphere wrong. Its technique is all schlock and smarm, studio-slick in the worst possible way. I had my first twinge of concern when the prologue (in a bomb shelter during the London Blitz) ended with a snap-bang power edit blackout on a door-slam – what was the point of that? I thought – and then a general sense of doom as the main title music kicked in with some synth drum loops and a bunch of "new age Hollywood poignant" chords rising one after another. What was the point of that? No point, it's just all part of the standard playbook these days. That, the CGI, the whole deal – it's just what movies are like! Didn't you see Lord of the Rings? Just hire those guys and film it in New Zealand and it'll be perfect. I cannot forgive their insensitive, second-hand approach to tone and atmosphere.
Andrew Adamson was the director of Shrek, which was also built out of borrowed, junky new-Hollywood gestures (slow-mo running from a giant explosion, etc.). At the time, I (and most other people, I think) thought they were making fun of that stuff – they certainly got away with it because they framed it that way. But at the time, one of my friends complained that Shrek seemed to him truly secondhand, nerdy and ingrown, and in retrospect, I think he may have been right. In Narnia, which has no claim to being a "parody" of anything, the bullshit is still slathered on suffocatingly thick in every scene. The final battle begins with a near-silent shot of the two armies racing at each other, whooshing into violent sound when they hit. You know what I'm talking about because you've seen it before. Like, on Xbox. The whole movie seemed to have been directed that way: "Yeah, then the wolves will, like, run at the camera and we'll do one of those things where the middle one, like, jumps over it, you know what I mean?" "I totally know what you mean." "Yeah, and then when he's fighting this guy, he'll like whip the sword around before he gets him with it, like, whop whop whop BOOM, you know?" "Totally."
Production design was pretty good. Some CGI animals were better than others; talking animal effects were done well. The goat-leg effect was very nicely handled. Tilda Swinton did a good bad guy, I thought, actually playing the personality traits of selfishness and cruelty rather than just "being evil." The kids were okay – the little girl had the heaviest screen-time-to-age ratio to carry and did a very good job. The other girl was very conscientious but didn't seem to know how best to maneuever the big lips that got her cast in the first place. The "bad" kid, Edmund, had the right young Brit look and used it serviceably. The eldest brother, Peter, looked like Prince William and that was about it for him.
After the screening, the director, the producer, the four kids, the ice queen, and the goat man were all present. The ice queen and the goat man both made a point of referring to their own "bad acting" and sliding sideways out of questions about their thoughts on the film. Even the kids – who at this early stage of their long publicity tour were, we imagined, practicing their faux-interview skills on us – even the kids seemed reluctant to say outright that they liked the movie, though they eventually found their way into saying stuff like "it actually surpassed my expectations." The youngest girl, Georgie Henley, was extremely composed and well-spoken for a 10-year-old, which of course got chuckles from the audience. I thought she was charming too, and also felt guilty that I was participating in this "isn't that precocious!" response that was probably fairly demeaning to her. When asked whether she wanted to stick with acting as a career, she answered, seriously, "Well, I'm still very young. I'm interested in many different things – right now I just think of acting kind of as an option." Everyone chuckled, even though this was a perfectly reasonable, intelligent answer. Georgie, I'm sorry. I'm also sorry that the movie is so junky, but you seemed like you'll rise above it.
Tilda Swinton, by the way, had her hair dyed a violent, flourescent yellow and, in this context, came off as an alien visitor from celebrity-fashion land, possibly dangerous. Adamson, by contrast, seemed like a total long-haired tech geek. But that's superficial of me.
One of his comments, I think, sheds some light on the movie's horribleness. He said that unlike The Lord of the Rings or Harry Potter, this book posed problems for an adaptation not because it required cutting back but because it required fleshing-out: C.S. Lewis leaves important things unsaid and sketches his characters lightly. As examples of things that were added, Adamson mentioned various creature designs and the cracking-ice action sequence in the middle of the movie. But he missed the broader problem: Lewis didn't create real characters or give us real reasons to care about them. The movie needed to show us something to get us involved; instead it dumps the same old garbage on us.
Ugh – I could just keep going on about this but I guess I should move on with my life.
Here is the only picture I could find of the first edition cover. Now, I'm not saying the movie should have looked like this illustration… but still, something to think about.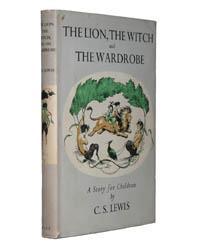 * It's taken more than another whole week for me to actually write this and post it. Oops.
** Beth is telling me that, in fact, Aslan just told him to "clean his sword" (in the river, we must assume), and the next shot, of the sword entering the ground, was a cut-ahead to later, as he prepared to be knighted. Yeah, maybe. Whatever.